Let's See Who Has A Crush On Who In Hollywood!
You couldn't possibly think of anyone you know who doesn't have a crush on anybody else, right? Celebrities are no exception. After all, if they can have short and long-term relationships, that means they have crushes too. It is pretty common for them to get involved with their fellow stars.
In fact, some of the younger Hollywood A-listers are known for being star-struck when they are given the opportunity to meet their celebrity crushes for the first time. Some of their crushes range from being relatable. After all, who doesn't have a crush on Johnny Depp? To the most outrageous ones like Jennifer Lawrence gushing over Larry David, that's just simply shocking. Even Jason Sudeikis' crush back in college is surprising. It turns out he once had the hots for Ellen DeGeneres in the past, and it was because of her dazzling blue eyes and great sense of humor. However, we have to appreciate the degree of honesty and bravery these stars show, given the fact that not all of us can announce who our crushes are to the entire world.
Adam Rippon on Shawn Mendes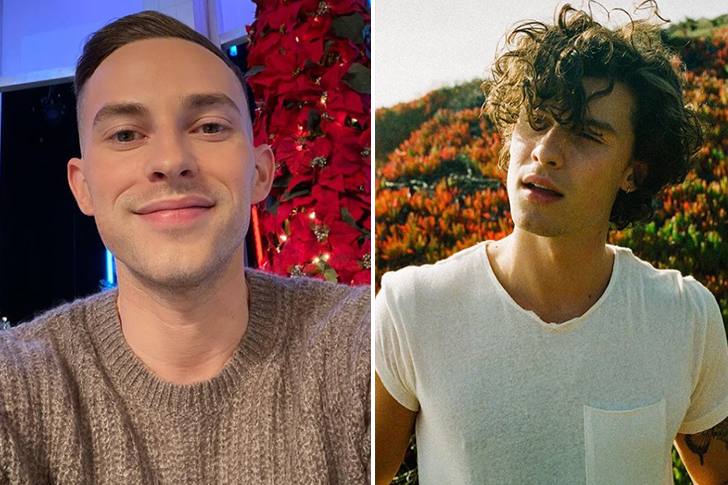 Former figure skater Adam Rippon is one of the best athletes out there. In 2010, he won the Four Continents Championships and the United States National Championships in 2016. Adam also gained recognition at the 2018 Winter Olympics, when he received a bronze medal at the skating team event.
Many of his fans adore him for his impeccable skills and talent at figure skating, but they also look up to him for being brave and being true to himself. Adam is openly gay, and like many celebrities, he, too, was getting smitten by his fellow stars, admitting that he once had a huge crush on Harry Styles and Jake Gyllenhall. However, it wasn't until he realized how cute Shawn Mendes was, did he fall head-over-heels for him, which was something he revealed in an interview he had with Ellen on The Ellen DeGeneres Show. We ought to give some credit to Shawn for being such a good sport. The two then shared a picture which Adam captioned with one word alone, "BRUH."
50 Cent on Helen Mirren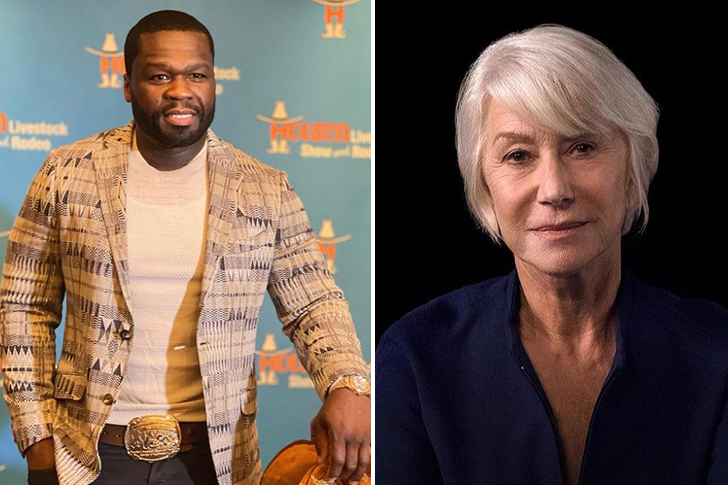 50 Cent is one of the most influential rappers in the world of music. In fact, he is widely recognized for his impact on the hip-hop industry. Just like any famous star, he couldn't help but get completely smitten by the 75-year-old actress Hellen Mirren.
It turns out 50 Cent is a huge fan of hers, and who can blame him? Despite her age, Helen is still an incredibly talented actress and still undeniably attractive. They reportedly spent some time together at the Monte Carlo Television Festival, and the degree of elegance and confidence she showed on the red carpet really captured his heart. He even shared a picture of some news coverage photos on Instagram, revealing that he was trying his hardest not to stare at her when they first met. 50 Cent is not alone on this boat because it turns out Ed Sheeran is also into the veteran actress. Helen has been married to Taylor Hackford since 1997. He is one lucky fellow indeed.
Adele on Rihanna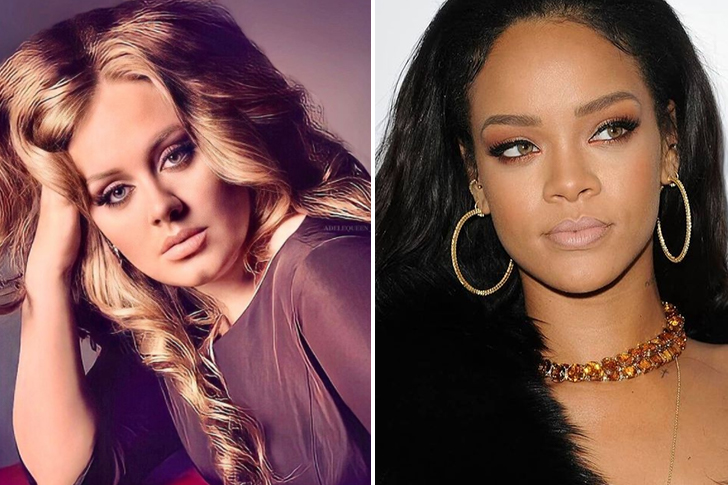 Adele is an iconic figure with a legendary voice in her own right. Despite being just as famous and having a small age difference, Adele is still a huge fan of Rihanna. The Rolling in the Deep singer must have felt over the moon when she found out the feeling was mutual. It turns out Rihanna admires Adele, too.
These superstars are really good friends. Adele is really in awe of Rihanna that she went out of her way and wrote a beautiful piece praising her "goofball" gal pal for Time magazine's Time 100 list, which was a two-paragraph essay in honor of her good friend. Moreover, Adele admires Rihanna's rise to stardom. After all, it seems steady since she has been around forever, pointing out that Rihanna deserved all the success. The degree of admiration Adele showed in her writings must have sent Rihanna in tears.
Amy Adams on Robert De Niro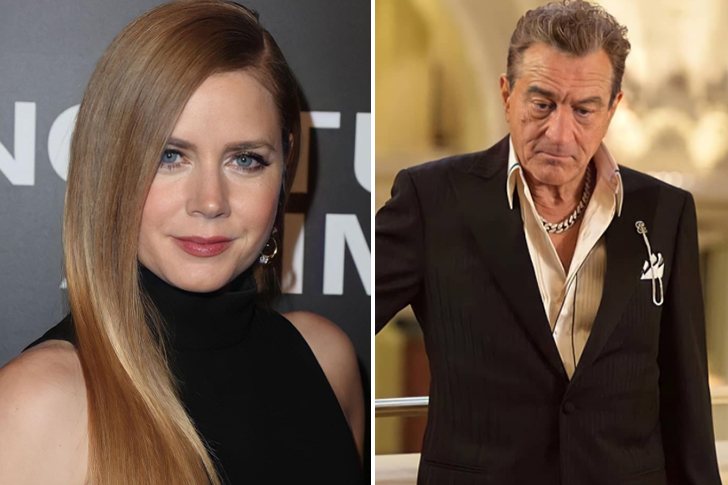 The two-time Golden Globe awardee, Amy Adams, is one of the most talented actresses in the entertainment industry, winning several accolades to her name. In fact, she has even been nominated for an Academy Award six times already at the age of just 46 years old. Amy has appeared in several critically and commercially successful films, including Enchanted, Arrival, and American Hustle. One of her latest film credits was from the 2020 movie Hillbilly Elegy. Given her success in Hollywood, it comes as no surprise that she would be smitten by someone who is just as great as she is.
Amy has been happily married to Darren Le Gallo since 2015. However, just like everybody else, she is allowed to have other celebrity crushes. Believe it or not, she recently revealed on an episode of Jimmy Kimmel Live that she had developed a crush on Robert De Niro after watching a bunch of his films.
Anne Hathaway on Jon Stewart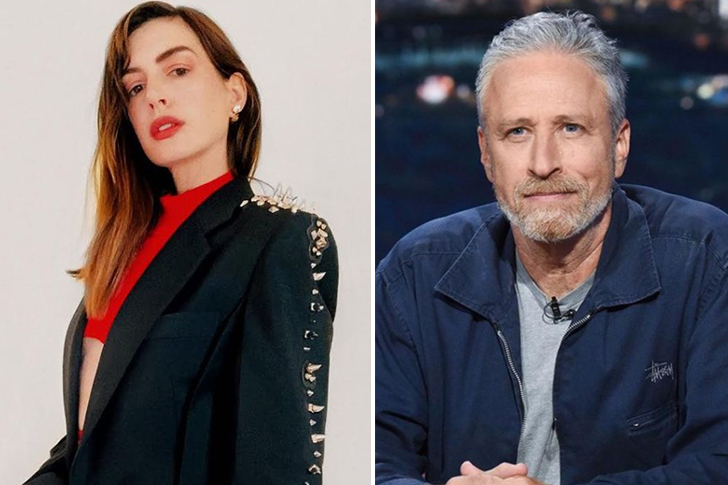 Television host Jon Stewart is one of America's biggest comedians, and for Anne Hathaway, it is all about the funny man. As it turns out, she has a huge crush on Jon.
Jon got his college degree from The College of William & Mary in Virginia before building his career in comedy. He became the host of the satirical news program on Comedy Central, which aired from 1999 to 2015. This was where Anne gushed about the fact that he was sitting right across her during her first interview on The Daily Show back in 2008. She even admitted that she was having a hard time concentrating because she was crushing all over him. She also revealed that many of her friends also had a crush on him. Too bad since Jon has been happily married to Tracey McShane since 2000, and Anne had tied the knot with Adam Shulman back in 2012.
Ariana Grande on Jim Carrey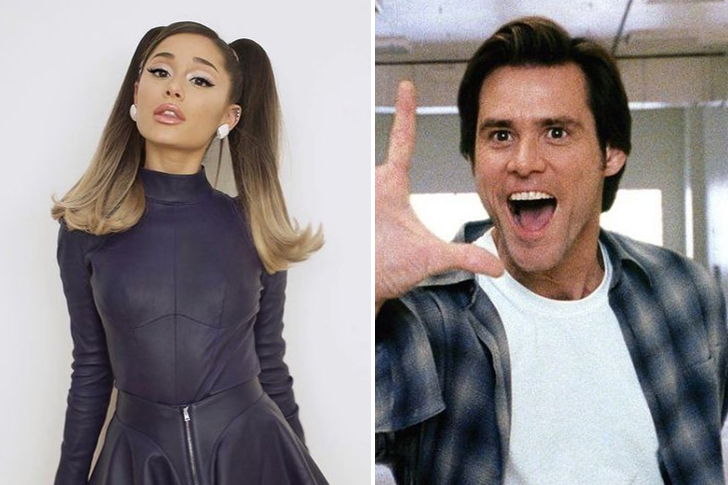 Ariana Grande, just like any other woman, likes a guy with a great sense of humor. In fact, she was once engaged to Saturday Night Live's Pete Davidson. One of the reasons why she was once head-over-heels for the comedian was because, as it turns out, Ariana isn't just a huge Jim Carrey fan, she is his childhood and life-long crush. She just loves a great comic.
We ought to give credit for the Live With Kelly And Michael television show for the interview she had with Michael Strahan himself. They were on the subject of childhood crushes when Ariana revealed that she is still smitten by Jim. Not everyone gets the opportunity to meet their celebrity crush, and when Ariana met her, she was extremely nervous. It's a good thing Jim was over-the-top nice, even feeling so blessed for having a talented admirer.
Ashton Kutcher on Jennifer Aniston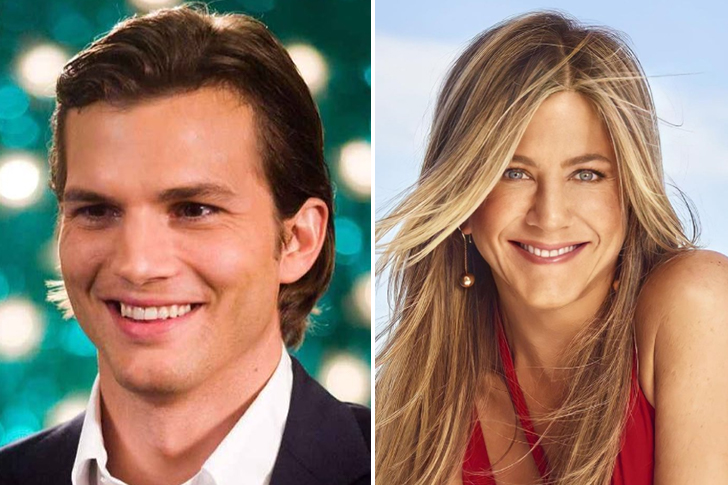 We think we can all agree that Ashton Kutcher is absolutely dreamy. He is one of the most handsome actors in Hollywood. Despite him being an A-list celebrity, Ashton is still allowed to gush over his fellow stars. In fact, he was still in high school when he developed a huge crush on one of our favorite Friends' actresses, Jennifer Aniston, even having her photo as his screensaver once.
Ashton was only 17 years older when he bet a high school friend $1,000 that he would go on a date with Jennifer Aniston someday. When he finally became famous, he asked Jennifer's former husband, Brad Pitt, if he could ask his then-wife out, to which he agreed to with an amused, "You go for it!" Unfortunately, she turned him down. Too bad it seems like Ashton will never win that bet with his high school buddy. It's all right, he is a lot happier these days being married to the love of his life, Mila Kunis. This lovely couple has been together for so long they must have a lot of property investments for their kids, Dimitiri and Wyatt.
Bella Thorne and Kristen Stewart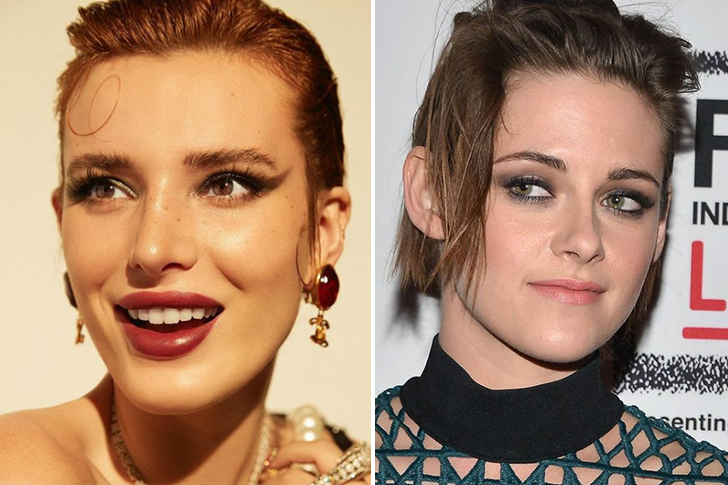 Bella Thorne is all up on Kristen Stewart. It turns out she finds her extremely attractive. Bella was only 19 years old when she openly discussed her gender, finally announcing that she was indeed bisexual in an interview with Harper's Bazaar. If given a chance, Bella would definitely go out on a date with Kristen.
The former Disney star has been on a lot of dates ever since she announced she was bisexual, and she never tried to hide her romantic relationships. However, it seems like Bella is a lot happier these days. After all, this 23-year-old has recently become engaged to her boyfriend in 2019. Her Italian beau, Benjamin Mascolo, recently proposed to her with a pear-shaped engagement ring with diamonds circling around it. It must have cost him a fortune, but he probably didn't need to take out his credit card to pay for this gorgeous jewelry. Their wedding might actually take place in both America and Italy.
Britney Spears on Brad Pitt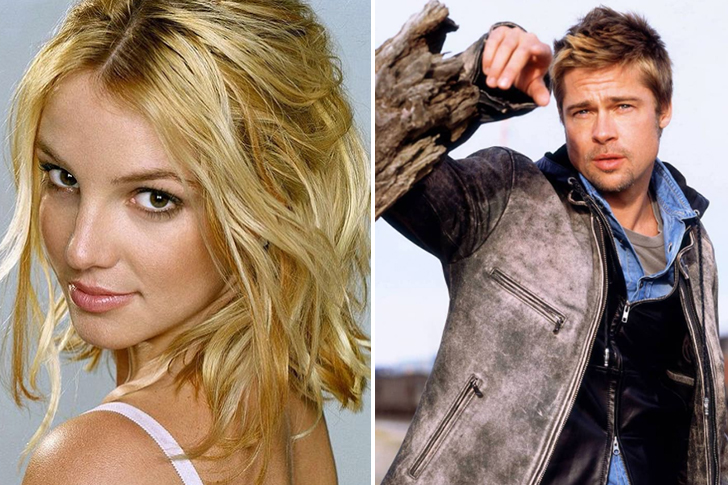 Britney Spears is an iconic star who shaped popular culture. She was extremely influential during the late nineties and the early 2000s. We even refer to her as the Princess of Pop. Despite all the fame and fortune the show business has to offer, Britney is a normal person, just like everybody else. It means she is bound to have crushes too.
If she has a longtime celebrity crush, it is definitely no other than the ever-so-handsome Brad Pitt, and we guess we can all relate to her! After all, he is such a dreamboat. In fact, Brad is the pop singer's first crush, and she was just over-the-moon excited when she first met him. In an interview, Britney revealed that she wouldn't mind becoming Brad and Angelina Jolie's nanny because it sounds like a lot of fun. Do you ever wonder how much it would cost to employ Britney as your nanny? You might have to dip into that investment money you've been saving up to afford her rate.
Chelsea Handler on Andrew Cuomo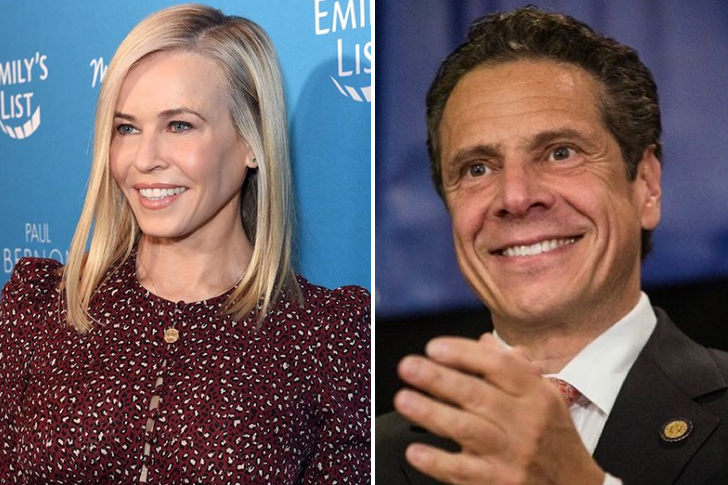 We all have that one crush who just doesn't seem to respond the way we want them to when we confess our interest towards them— this is exactly the case for Chelsea Handler and New York Gov. Andrew Cuomo. However, we must give credit to Chelsea for being bold enough to ask him out.
She refers to Andrew as a big Italian hunk. The comedian was just so smitten by this charming public servant, and she just had to ask him out. He did agree to go on a date with her. However, Chelsea never heard back from him. It turns out, Andrew is only dating in-state residents, which means that if she decided to change her career and residence, they might be able to work it out. Until then, Andrew will remain Chelsea's crush. To make up for the rejection, he complimented her work and even said that he is a big fan of her.
Chrissy Teigen on Alex Rodriguez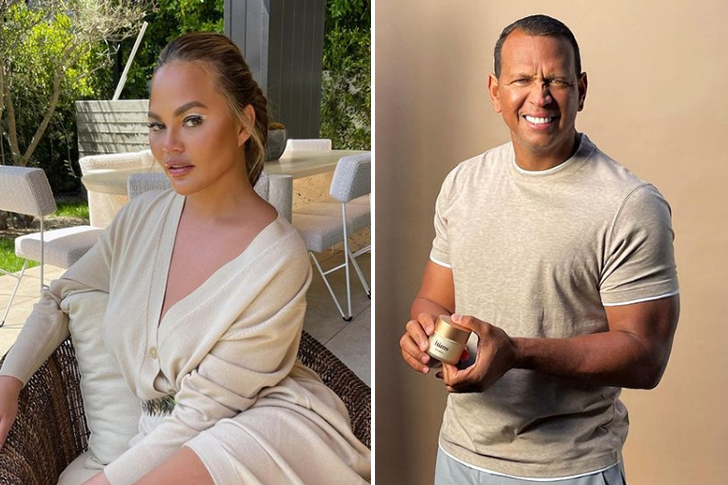 American model Chrissy Teigen is widely known for her beautiful relationship with her husband, John Legend. They married in 2013 and share two wonderful kids, Luna Simone and Miles Theodore. However, Chrissy had a couple of crushes back in the day. In fact, Alex Rodriquez was one of them.
Chrissy grew up in Seattle, and she was only around nine years old when she first laid eyes on the 19-year-old Alex playing baseball. He was still a young buck, and the young Chrissy just felt butterflies in her stomach at the sight of her handsome crush. She was already with John when she first saw Alex in person, and she got so nervous upon meeting him that Alex had to say, "Your man is over there!" as he points to John. We ought to give Alex some credit for keeping himself respectable.
Cole Sprouse on Jennifer Aniston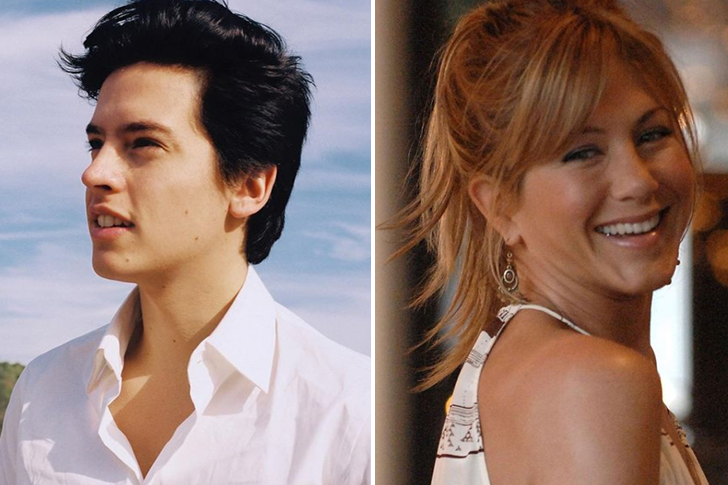 The former Disney star, Cole Sprouse, is one of the lucky actors who got the chance to have a recurring role on every American's favorite sitcom, Friends.
Cole is all grown up now, and during his appearance on the Drew Barrymore Show around January 2021, he talked about one of his earlier roles. Cole revealed that while he was working on the television show as Ross Geller's son, Ben, he was having a hard time carrying out his lines when he had to do scenes with Jennifer, who played Rachel Green. It turns out he was so smitten by her that he would stammer a lot on set. The crew even teased him because they all knew that he had a crush on her. After all, Jennifer did have a lot of gushing fans. As of 2021, Cole is rumored to be dating Ari Fournier, a professional model. Cole's net worth is already estimated to be around $80 million, and he must have a financial advisor who helps him keep track of his money.
Diane Keaton on Channing Tatum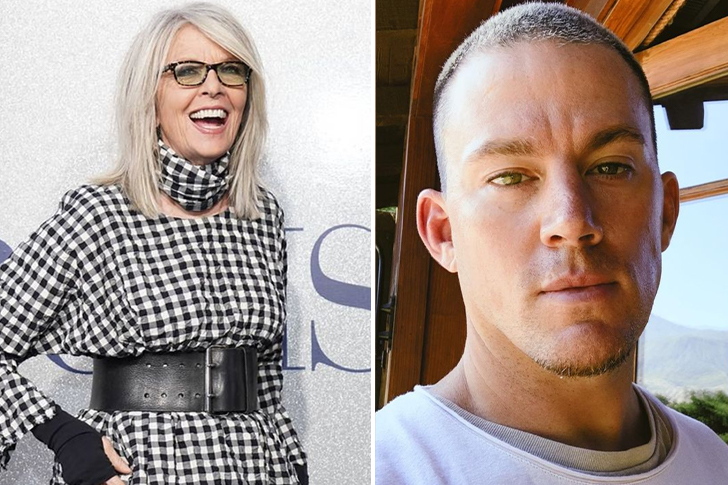 Academy-award-winning actress Diane Hall Keaton is 75 years old now, and she may not have been involved with anyone as deeply as she was with Woody Allen. Aside from Woody, she also went out with some of the biggest A-listers in Hollywood, including Al Pacino, Warren Beatty, and Jack Nicholson. However, she never got married to any of them.
According to Diane, if she were to marry someone it would definitely be the Magic Mike star, Channing Tatum. In fact, she was so excited when Magic Mike XXL came out that she secured a ticket to see it on the silver screen and even tweeted about it. As of 2021, Diane may be single, but she has a whopping net worth of $100 million. She must have a lot of property investments at this point. Truth be told, this amazing actress might not have married, but she is happy she has her kids, Dexter and Duke Keaton.
Dwayne Johnson on Rachel McAdams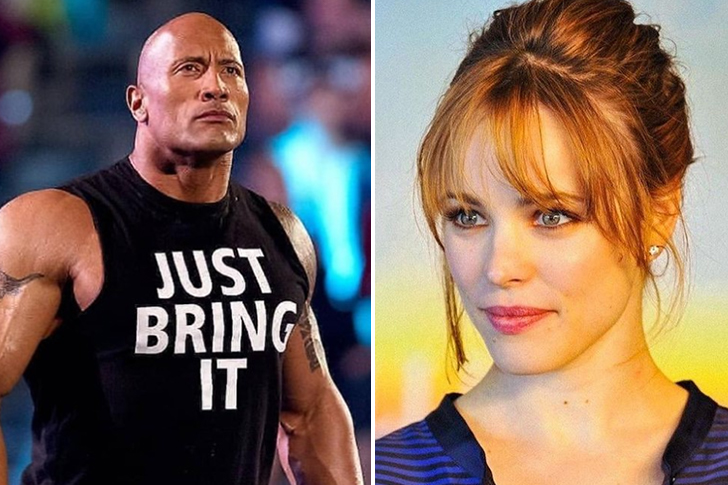 Dwayne Johnson may be a retired professional wrestler, but this 49-year-old is now one of the most sought-after actors in the film industry. With a great family who has his full support and an amazing career, not to mention the jaw-dropping net worth of $330 million and some of the most expensive property investments he has ever purchased, it seems like Dwayne has everything.
Despite the fact that Dwayne is one of the sexiest men alive, he is bound to have celebrity crushes of his own. It turns out that apart from having a huge crush on Jennifer Lopez, he also has the hots for The Notebook actress Rachel McAdams. Well, who can blame him? Not only is Rachel an incredibly great actress with oozing versatility on-screen, but she is also extremely beautiful. Even at the age of 42, she still looks stunning.
Dylan O'Brien on Chloë Grace Moretz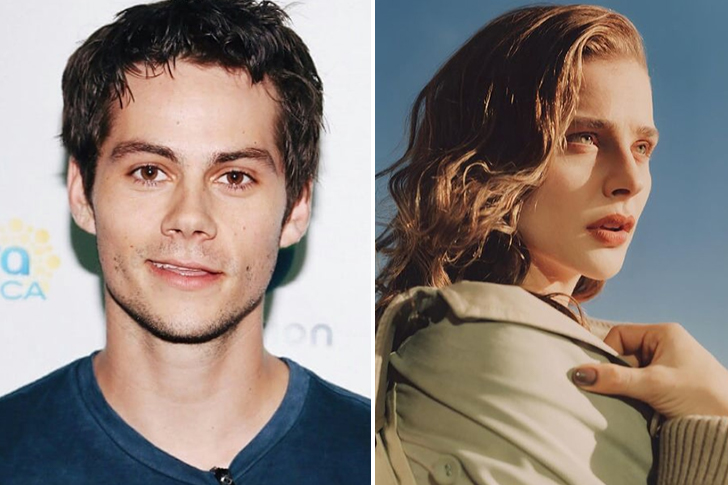 American actor Dylan Rhodes O'Brien, or simply known as Dylan O'Brien, was made prominent for his acting credit in the MTV supernatural television drama Teen Wolf, for which he played the role of Stiles Stilinski. He is also known for his lead role in the 2013 hit dystopian film based on the book of the same name, Maze Runner, later reprising his role in the two sequels of the movie.
The actor originally called that the then 13-year-old Chloë Grace Moretz was his crush in an interview he did during 2011, later taking back his statement, albeit jokingly, due to the two's five-year age gap, with Dylan being 18 at the time. Although the actor later went on a supposed date with the actress during 2018, nothing came to fruition, as they went their separate ways. Dylan, now 29 years old, is currently single. He used to date the Tomorrowland star, Britt Robertson.
Emilia Clarke on Matt LeBlanc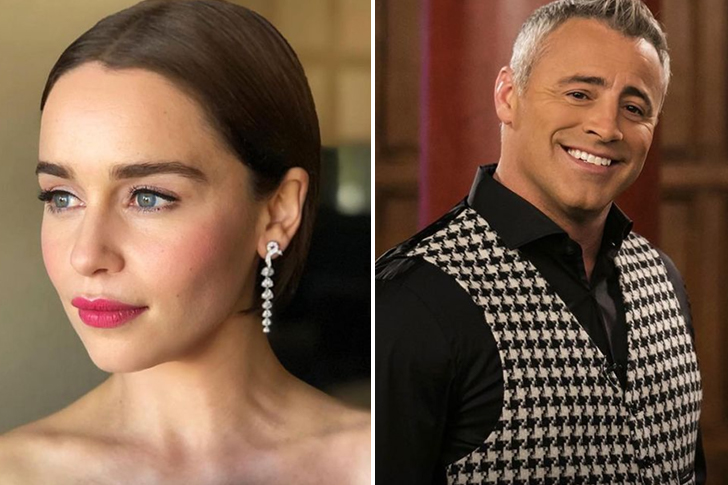 Possibly being one of the most relatable celebrity crushes of all time, Game of Thrones star Emilia Clarke revealed she has a huge crush on Matt LeBlanc. Matt is an actor known for his iconic role as Joey Tribianni in the super popular 1990s American sitcom Friends. With a net worth of $80 million, which is mostly coming from his notable work in Friends, Matt has continued to earn a huge degree of royalties and backend points on the show as part of their contract negotiations in 2000.
The celebrity crush revelation came to light when Emilia, Matt LeBlanc himself, Mamma Mia! star Dominic Cooper, and Underworld star Kate Beckinsale were interviewed in 2016 on The Graham Norton Show. In the show, the Game of Thrones actress made playful banter and openly admitted that her '90s crush was Matt, giggling and blushing while being seated next to the actor.
Emma Roberts on Jonathan Taylor Thomas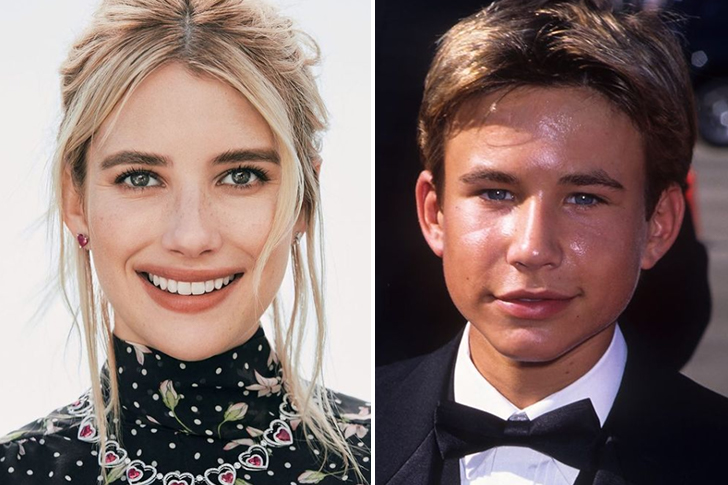 Yet another relatable celebrity crush, American Horror Stories star Emma Roberts, also known for being the niece of the renowned actress Julia Roberts, confessed that her '90s celebrity crush was Jonathan Taylor Thomas. The actor is known for the role of Randy Taylor in the '90s sitcom Home Improvement and most prominently being the original voice of young Simba in Disney's The Lion King. Due to his investments in Home Improvement, the actor quickly established himself as a teen idol, and with his characteristic smug and somewhat shaggy blonde hair, it doesn't take much imagining to see why Emma had a crush on him.
A then-young Emma reportedly spent hours on making collages using the actor's pictures in her room. The Scream Queens star would definitely scream if you tell her that Jonathan is in the same room as her.
Emma Watson on Tom Felton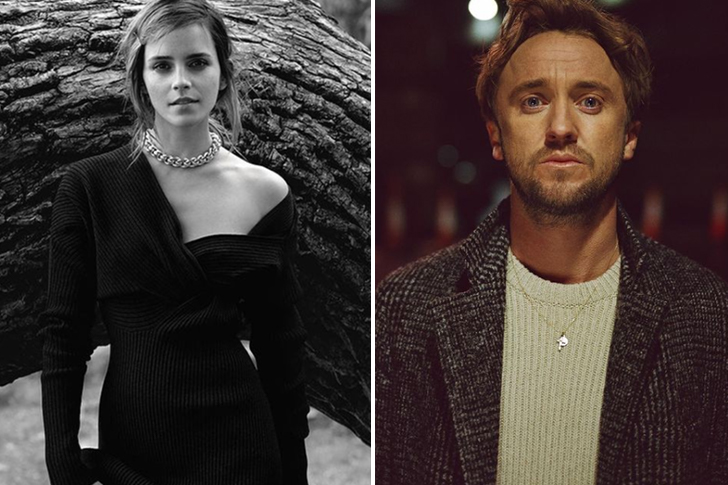 Emma Charlotte Duerre Watson is an actress whose immediate success is credited to the 2001 Harry Potter movies. In the film franchise, her role as Hermione Granger skyrocketed her to stardom. Seven more Harry Potter movies, various projects, and multiple accolades later, the actress admitted to having a huge crush on her fellow co-star and on-screen antagonist Tom Felton. Tom played Draco Malfoy, her deadly adversary in the Harry Potter series.
The actress added that Tom was her first crush and that she was crazy about him during the first two movies. She said that his bad-boy reputation on-screen drew her in and that she was captivated by him off-screen as well. However, despite this, the actor only ever thought of her as a sister. Now, the celebrities are long-time friends, often laughing off their old memories during the Harry Potter days, including Emma's crush on the actor.
Harry Styles on Lindsay Lohan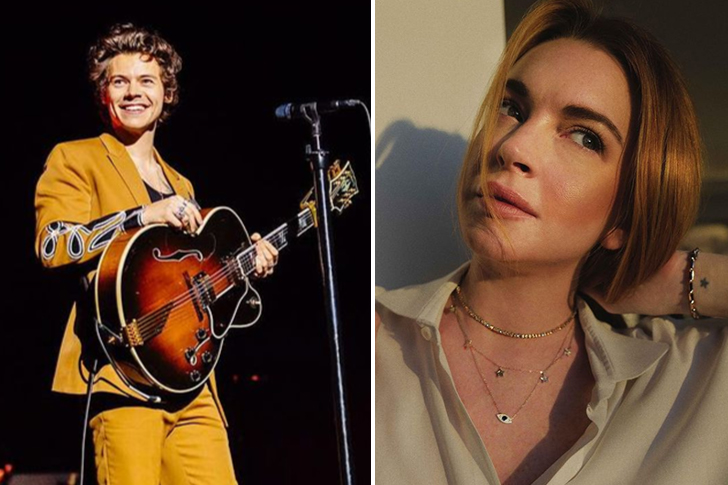 Harry Edward Styles is a singer-songwriter and actor from England. He debuted on the 2010 music competition series The X Factor as a single competitor, and was called back after being eliminated early on to join the band One Direction, which went on to thrive as a best-selling boy band. Throughout his career, Harry has received several credits and awards, including two Brit Awards, a Grammy Award, and an American Music Award.
The 27-year-old singer-songwriter is currently in a relationship with the American actress Olivia Wilde since early 2021. However, according to an interview with the Mean Girls star and former child actress Lindsay Lohan, she apparently turned down the former One Direction member when he came to visit her in her hotel room at 2 AM in the morning. The actress, however, didn't regret the decision, as she met her future boyfriend, businessman Bader Shammas a few years after.
Helen Mirren on Vin Diesel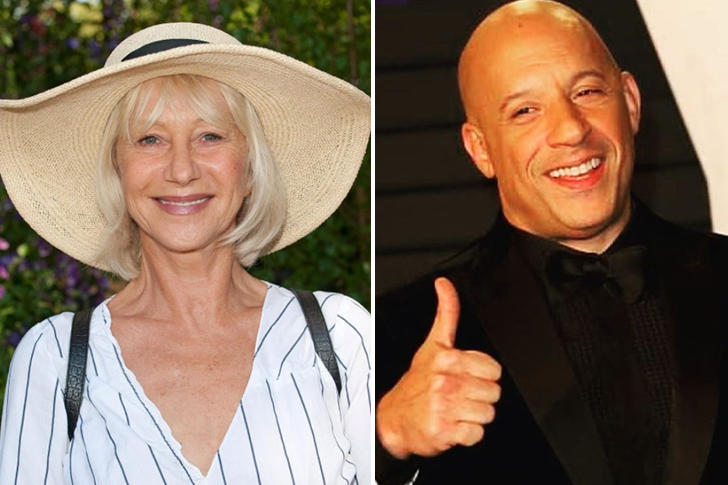 Helen Mirren, known for movies such as The Madness of King George, The Last Station, and The Queen, laid the foundations of her career by joining the Royal Shakespeare Company. After her performance as Cleopatra in Antony and Cleopatra in 1965, she landed prominence in the theatre scene. Later on, she made her West End theatrical debut in 1975.
Helen has enjoyed a massive degree of success in television and cinema since then. Her most notable achievement is being the only individual to have achieved the Triple Crown of Acting in both the United States and the United Kingdom. She later served as a guest on the talk show Late Night With Seth Meyers to discuss her upcoming Broadway musical, The Audience. During the interview, the veteran actress confessed that she had a crush on the Fast & Furious star Vin Diesel, which in no small part motivated her to play the role of Magdalene Shaw.
Jack Black on Amy Poehler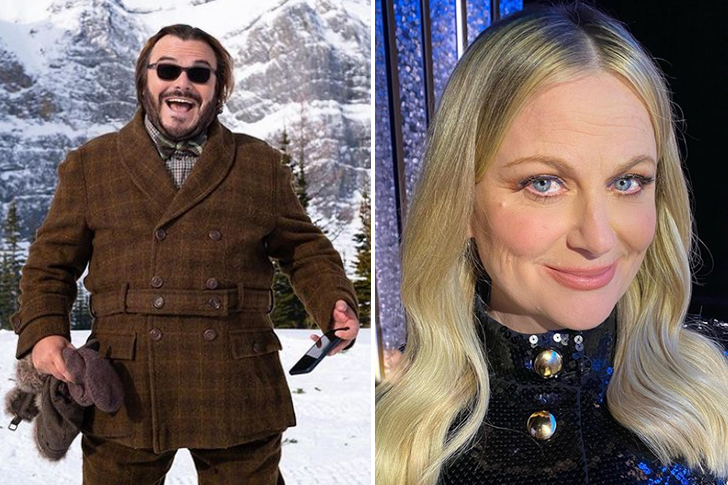 Thomas Jacob "Jack" Black is a prominent American actor, comedian, singer, and composer who is most recognized for his parts in the movies The Cable Guy, Cradle Will Rock, and most notably, The School of Rock. In Dream Works Animation's Kung Fu Panda franchise, he famously voiced the protagonist, Po. For his works, he was nominated for Golden Globes for his roles in The School of Rock and Bernie. Jack was also credited with a star on the Hollywood Walk of Fame in 2018, which is a crowning jewel in any Hollywood actor's career.
The Jumanji star told W Magazine that he had been a fan of Amy Poehler since he first saw her perform a skit on Conan O'Brien's show. He later added that as a comedian, he is always attracted to people with a good sense of humor and that the Parks and Recreation actress was exactly that.
Jason Sudeikis on Ellen DeGeneres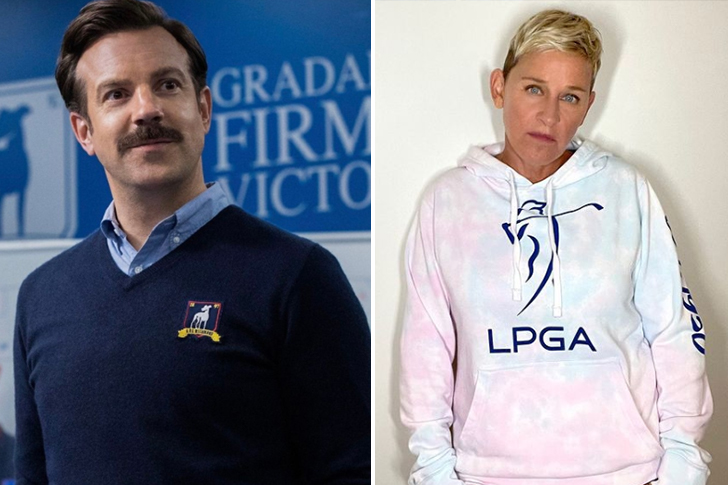 Actor and comedian Daniel Jason Sudeikis is known for his role as a cast member of Saturday Night Live from 2005 to 2013, portraying notable personages such as Joe Biden, Mitt Romney, and many others. He began his improv comedy career in the 1990s, performing with ComedySportz, iO Chicago, and The Second City. Jason joined Saturday Night Live as a writer from 2003 until 2005 and later bagged a role in front of the camera.
The comic, in his 2019 stand-up performance in TV personality Ellen DeGeneres' self-titled talk show, went on to say that he had a "full-blown crush" on the talk show host during his college days. Of course, the joke's punchline ended with the comic being disappointed in the fact that Ellen's orientation was of a different gender. However, to his credit, the comic closed up the joke stating that she was his idol while growing up, going as far as to say that she was a hero to him when it came to comedy.
Jennifer Lawrence on Larry David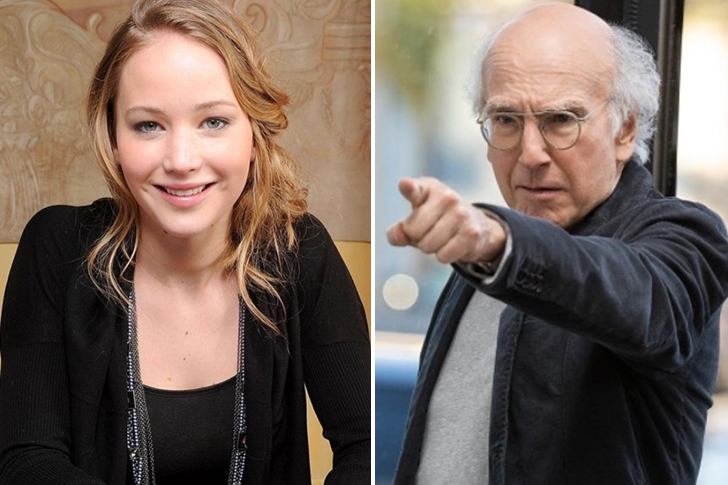 We all knew and loved her as Mystique in the X-Men film series and cheered her on as Katniss Everdeen in the Hunger Games film series. Jennifer Lawrence is quite literally one of the world's most influential people, at least according to Time magazine. Being one of the highest-grossing action heroines of all time, the 30-year-old actress has won multiple awards, including a BAFTA Award for Best Actress in a Supporting Role, Golden Globe Awards, and an Academy Award for Best Actress.
In an interview with Vanity Fair, the female superstar honestly confessed that the 73-year-old co-creator of the mega-hit television series Seinfeld and Curb Your Enthusiasm was someone she truly loved. To his credit, the actor and comedian Larry David responded somewhat jokingly that the timing was too bad but would rather not rule out the possibility. He was actually flattered by the actress's comments about him.
Jennifer Lawrence on Timothée Chalamet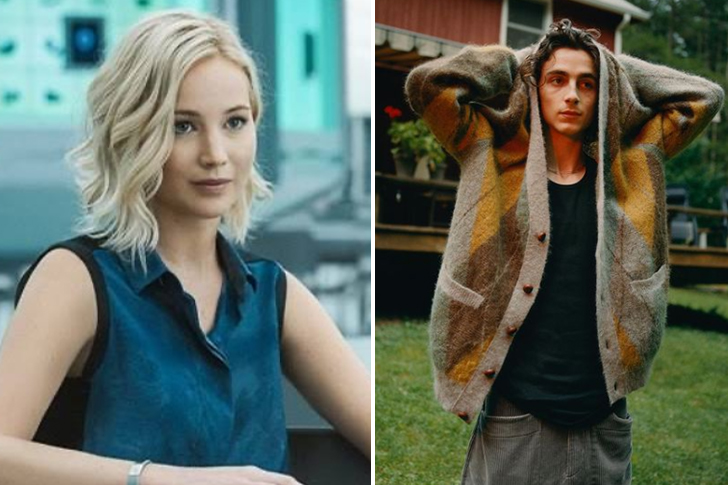 Made iconic for her roles as Katniss Everdeen and Mystique in both the Hunger Games and X-Men franchises, respectively, the 30-year-old superstar has had her films has grossed a whopping $6 billion internationally. A recipient of multiple prestigious film accolades, including BAFTA Awards, Golden Globe Awards, and Academy Awards, Jennifer Lawrence seemingly has not run out of gas as she is currently preparing for her 2021 film Red, White and Water's release.
Although she has been married since 2019 to successful art gallery director Cooke Maroney, the actress has been quite vocal with her celebrity crushes in the past, including her crush on renowned comedian and actor Larry David. The actress also later confessed yet another celebrity crush to the newly-debuted Timothée Chalamet, who had just come out of Call Me By Your Name and Lady Bird as a successful actor.
Josh Hutcherson on Emma Watson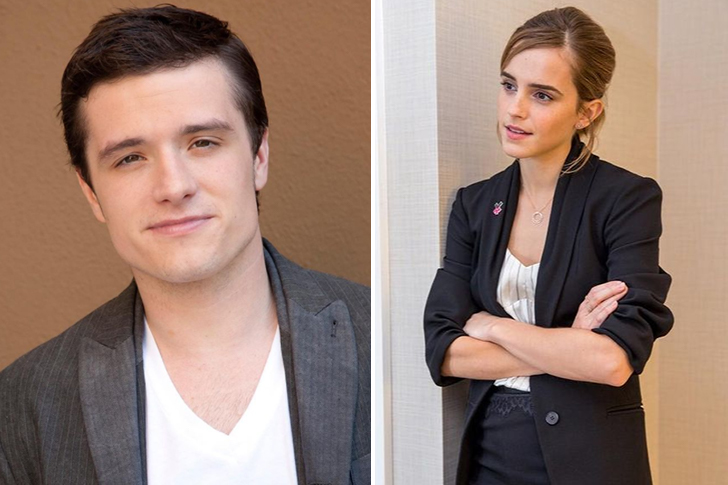 Again, another highly relatable celebrity crush, especially for those who are old enough to watch and understand the iconic 2000s fantasy adventure franchise, Harry Potter. Josh Hutcherson is known for his work in The Hunger Games franchise, playing the role of Peeta Mellark, opposite Jennifer Lawrence's Katniss Everdeen. In the early 2000s, the actor began his career by performing in commercials and modest film and television parts until he obtained his first significant part in the pilot episode of House Blend in 2002. His first cinematic appearance was in Animal Planet's Miracle Dogs.
The actor, in an interview, went on to say that he had a huge crush on British actress Emma Watson, and it is no doubt due to the latter's success and investments in the Harry Potter movie franchise as Hermione Granger. He also went on to say that he tried to get his manager to call Emma in hopes of getting a meeting between them to happen.
Kim Kardashian on Johnny Depp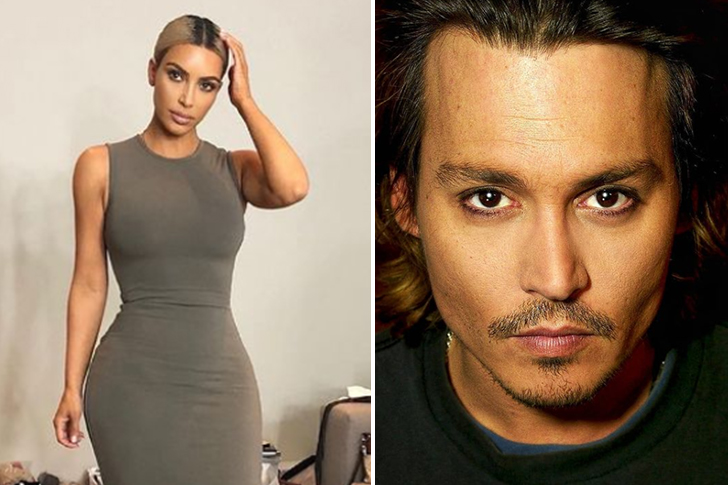 Made prominent through the show Keeping Up With The Kardashians (KUWTK), which she stars in alongside her family members, Kim Kardashian is an American socialite, billionaire entrepreneur, and mother of four who is responsible for the $1 billion company KKW Beauty.
She later married the famed rapper and businessman Kanye West in 2014. However, they separated in early 2021. The reality personality, in an interview, admitted that she had a crush on the Pirates of the Caribbeans star Johnny Depp, who was apparently her first crush, despite not her being into "bad-boy types." At the time, the actor was dating Winona Ryder and was at the peak of his career in terms of being a teen idol due to his iconic role in the television series 21 Jump Street. Meanwhile, Kim is now on her way to becoming a lawyer like her late father.
Kristen Stewart on Amy Adams
Kristen Jaymes Stewart is the popular actress behind the iconic film character Bella Swan. She rose to prominence and increased her credit score in The Twilight Saga films, which were based on the bestselling novels by author Stephenie Meyer. Due to her performance as Bella Swan, the franchise collectively grossed over $3.3 billion internationally, cementing its place as the 19th highest-grossing film franchises as of 2021.
The actress, now in a loving relationship with girlfriend, screenwriter Dylan Meyer, has confessed her celebrity crushes in her past interviews. She had one for Indiana Jones megastar Harrison Ford, as well as the award-winning actress Amy Adams. The latter of which was due to her collaboration with the Enchanted actress in the 2012 drama On The Road. Kristen even describes Amy as her favorite actress. Another notable crush she also has confessed about is Irish actor Collin Farell.
Lauren Conrad on Justin Timberlake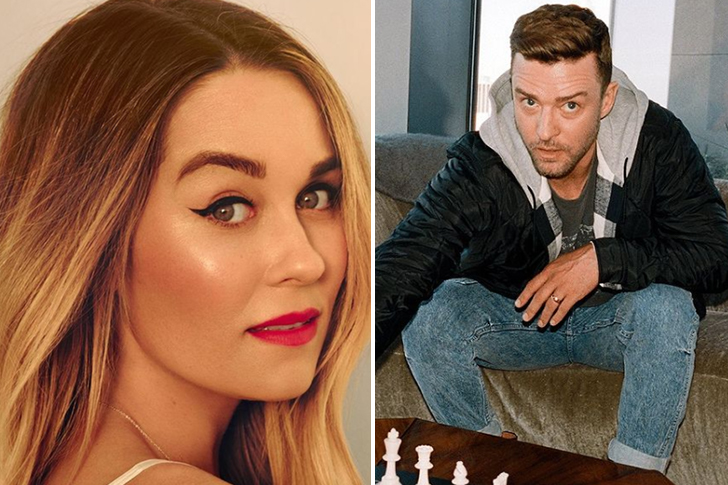 Lauren Katherine Tell, known as Lauren Conrad, is an American television personality and fashion designer. She rose to notoriety in September 2004 as an 18-year-old after being cast in the reality television series Laguna Beach: The Real Orange County, which documented her and her friends' lives in Laguna Beach, California. The TV personality eventually moved to Los Angeles in hopes of pursuing a career in fashion, later receiving a role in the Laguna Beach spin-off, The Hills.
The Hills star confessed in a US Weekly interview that she was a huge Justin Timberlake fan as a teenager. Her confession came almost seven years after Justin's scene during the 2007 VMAs, where she was apparently snubbed alongside Whitney Port while presenting the former N'Sync member an award. At the time, Justin reacted by insulting reality television, which came as a huge letdown for his fan, who credits much of her success to reality television.
Lena Dunham on Jimmy Fallon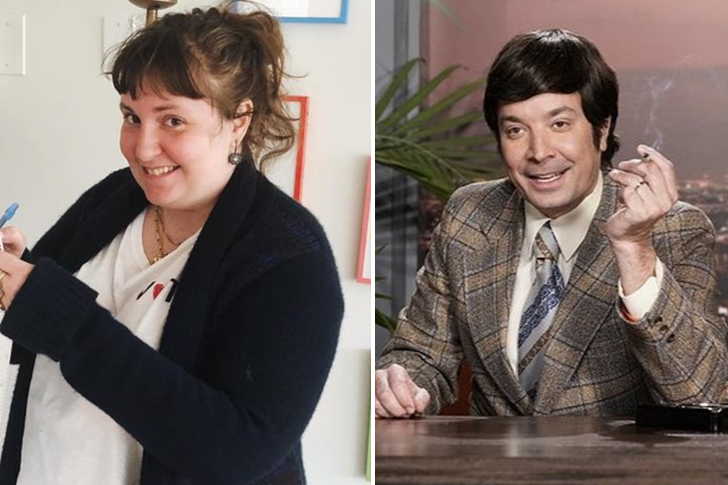 Lena Dunham is a writer, actress, director, and producer from the United States. She is most known for having investments in the HBO television series Girls, which she starred in and helped create and write. For her work in the show, she was nominated with multiple Emmy Awards, eventually winning two Golden Globe Awards. Lena also directed multiple episodes of Girls and is the first woman to receive the Directors Guild of America Award.
In the multitalented celebrity's 2012 appearance in the Late Night with Jimmy Fallon show, she openly confessed that she loved the TV personality and talk show host. Despite all their playful banter, the actress was clearly in love, going as far as writing a play in which she and Jimmy switched bodies and ending with her falling in love with him, in true Freaky Friday fashion.
Lucy Hale on Steve Carrell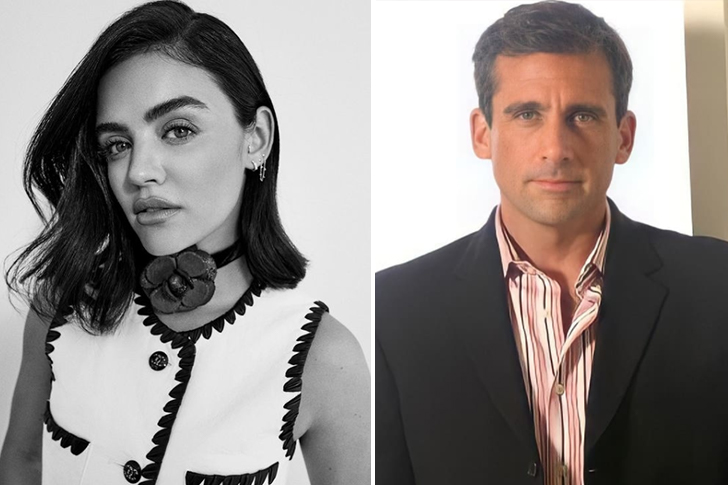 Steve Carell rose to fame for his comedic stints in the hit NBC sitcom The Office, which ran for eight years. He is loved and hated by the show's fans for his annoying yet funny ways as Michael Scott. Steve also directed and produced the show occasionally, making him the ultimate man of the TV series.
His humor did not only catch the interest of fans. Even co-celebrities find his funny antics as interesting, including Lucy Hale, star of Pretty Little Liars. In an interview in June 2013 for the cover of Lucky Magazine, the then 24-year-old actress once admitted how she thinks Steve Carell has a degree of desirability in his personality, adding that she is interested in much older men. Lucy also mentioned other stars such as Robert Downey, Jr. and Mark Wahlberg, who are decades older than her.
Margot Robbie on Joaquin Phoenix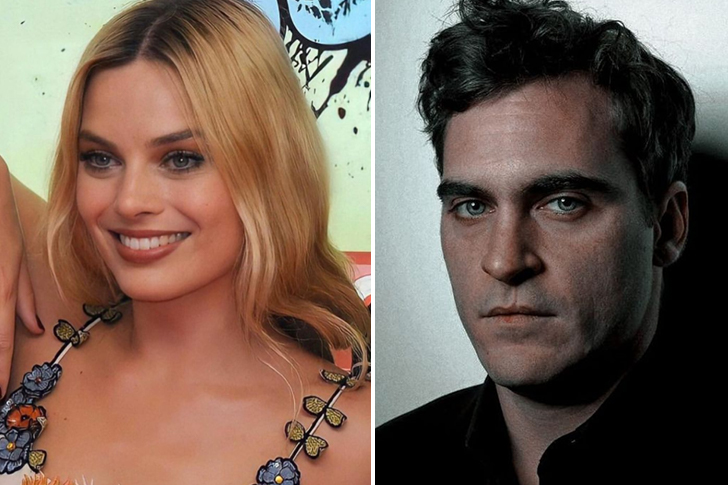 Margot Robbie is known for her Harley Quinn character in Suicide Squad. She was paired with Jared Leto's Joker character. The two's tandem had fallen out upon the release of Margot's Birds of Prey. Meanwhile, Joaquin Phoenix played in Todd Philipps' Joker movie, where he gets the main credit as the lead actor. Fans are thinking if they can work together as on-screen partners. However, Margot thinks Joaquin's role was more grounded, unlike her tandem with Jared, which was different and much more heightened.
The Australian actress once admitted that she was smitten with Joaquin Phoenix in 2014 when she met him in a rehearsal at Golden Globes. The two shared a hug and kiss at the rehearsals of the awarding event. Although she was single at that time, it did not blossom into a romance. She is now married to film producer Tom Ackerley.
Martha Stewart on Ryan Gosling
Martha Stewart is not dubbed a multi-talented businesswoman for nothing. She is a TV personality, a cook, writer, and founder of her own business Martha Stewart Living Omnimedia. She has a wide range of enterprises where she put her major investment money, ranging from publishing, multimedia, and broadcasting.
Despite her fame and success, Martha is just like any other woman who develops crushes on someone. For her, it will be none other than The Notebook star Ryan Gosling. In an interview in 2013, she told the press that she swoons over the actor. She fangirls over his looks and acting prowess, specifically in the series Ides of March. Martha and Ryan may not have that chance to work with each other due to their seemingly different industries. However, as every fangirl wishes, she may have dreamed of having him in one of her shows in the coming years.
Matthew McConaughey on Susan Sarandon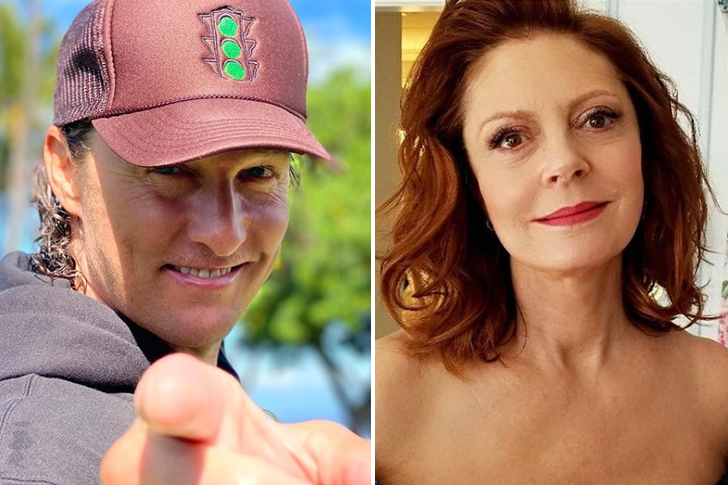 Susan Sarandon is a veteran actress who has been in the industry since the 1970s. She rose to fame for her movie The Rocky Horror Picture Show. She also starred in Thelma & Louise and has been in the movie That's My Body. The renowned actress has also been a recipient of many awards for her outstanding acting chops.
Her acting portfolio explains why even younger actors of today admire such beauty and talent. Even when she is already in her 70s, Susan still maintains a degree of charisma and can still capture the hearts of the younger generation of Hollywood actors. One of them is The Gentleman star Matthew McConaughey, who admitted in June 2013 that Susan's beauty is timeless. For him, the actress is still one of the gorgeous women in Hollywood. He also added that Susan is a very crushable woman. His admiration is just plain crush and nothing more than that as he is happily married to Camila Alves since 2012.
Meryl Streep on Will Ferrell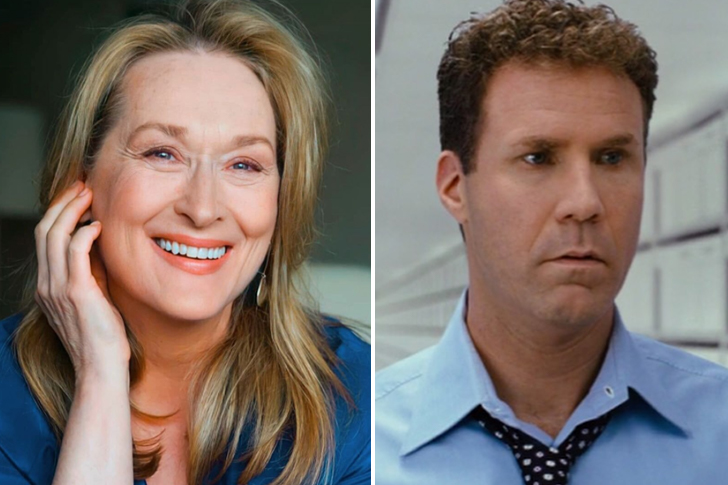 Meryl Streep has etched her name in the world of acting since she started decades ago. Despite having fame and fortune by her side, she is not one to have her name under credit for controversies and affairs, thanks to her stable and longtime marriage with sculptor Don Gummer. She has remained free from allegations, which many stars of today deal with. Even amidst a steady married life, Meryl is still someone who develops an admiration for other men.
In 2015, Meryl revealed that she has a crush on all-around funnyman Will Ferrell. The actress even mentioned that she loves and watches every movie Will has worked on and sees him as the "man." Comparing to Ryan Gosling, who is undeniably an A-list actor with many admirers, Meryl sees the comedian as crushable. According to her, Ryan can pass as his son but not as a crush.
Nicole Kidman on Jimmy Fallon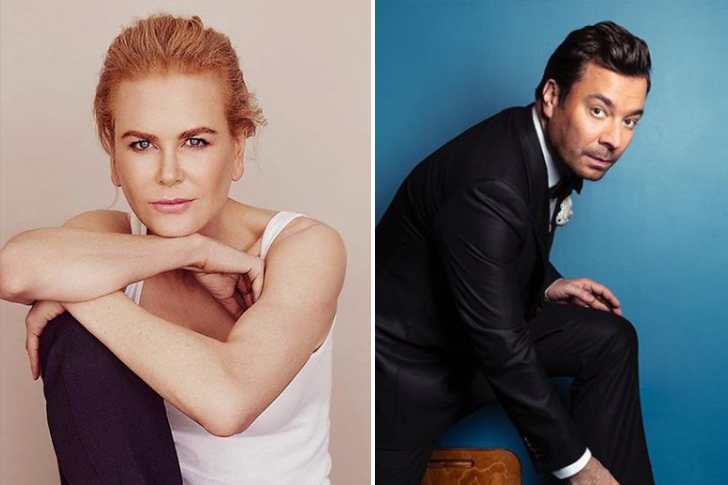 Before Nicole Kidman married Keith Urban, she was a single woman nursing a broken heart from her failed relationship with Tom Cruise. She was open to dating men, even with younger and beginner actors back then, including Jimmy Kimmel. In her 2015 appearance on The Tonight Show, Nicole admitted that she once liked the host, but she thought he was not interested in him.
The award-winning actress once went to his apartment for a supposed date, but Jimmy thought it was only for an upcoming project. Nicole then went off thinking he was not interested in her, and that blew the host's chance to date the A-list star. In their conversation, Jimmy had no idea that he blew off the chance. At some point, the comedian even hides at his table or lays down the flooring due to humiliation and utter shock. After the revelation, both just laughed off the supposed budding romance between them.
Noah Schnapp on Zendaya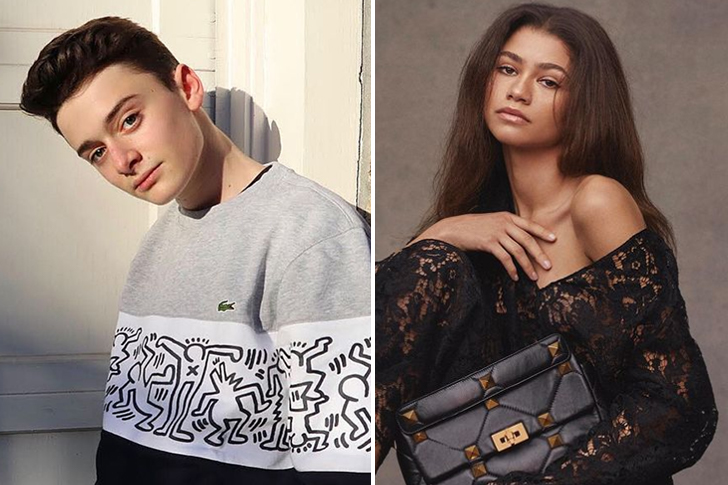 The 16-year-old Noah Schnapp has had his fair share of popularity with his role in Stranger Things. Amidst the degree of his fame, the teen star is just like any other boy who gushes over their crushes. The actor did not hesitate to reveal who, among all Hollywood celebrities, is his ultimate crush.
Noah recalled meeting his ultimate crush and The Greatest Showman actress Zendaya in the 2019 MTV Music Awards. The young star was talking to the comedian and host Jimmy Kimmel when he saw her in the corner of his eyes. Upon seeing her for the first time, Noah mustered all his strength to come to her, albeit being nervous, and take a snap with him, to which Zendaya happily bent down and obliged. The actor admitted that he has a longtime crush on the singer-actress, even revealing that he's obsessed with her.
Rebel Wilson on Channing Tatum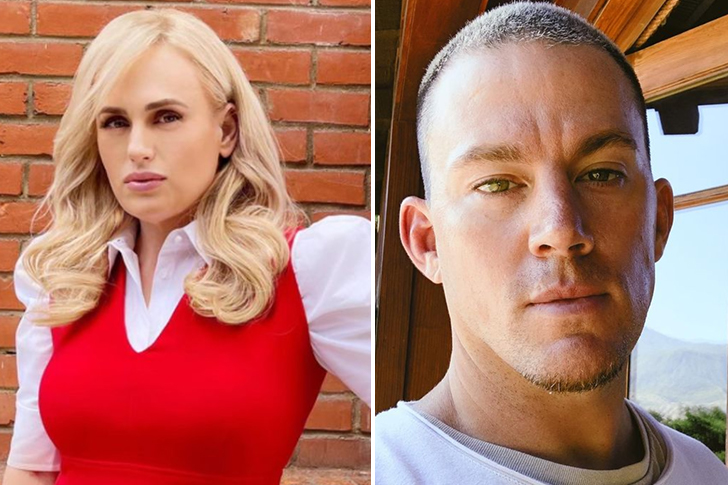 Rebel Wilson has always been the type of actress who has honest-to-goodness answers to questions thrown at her. She is known as a comedian, singer, and actress who is popular among Pitch Perfect fans. She also appeared in The Hustle and in How to Be Single. Rebel has a brand of comedy that is a big hit to the young audience, which makes her a big name in the acting industry.
In a 2013 interview, Rebel did not hesitate to reveal her cinematic crush: Channing Tatum. The 41-year-old actress admitted that she likes him and jokingly dreams of him leaving his wife to date her. The actress even revealed on-air her address, just in case Channing watches her interview and decides to go to her house, as she leaves her home security off when he enters. She recalls Channing's movie She's the Man as one of her favorite movies of him.
Reese Witherspoon on Johnny Depp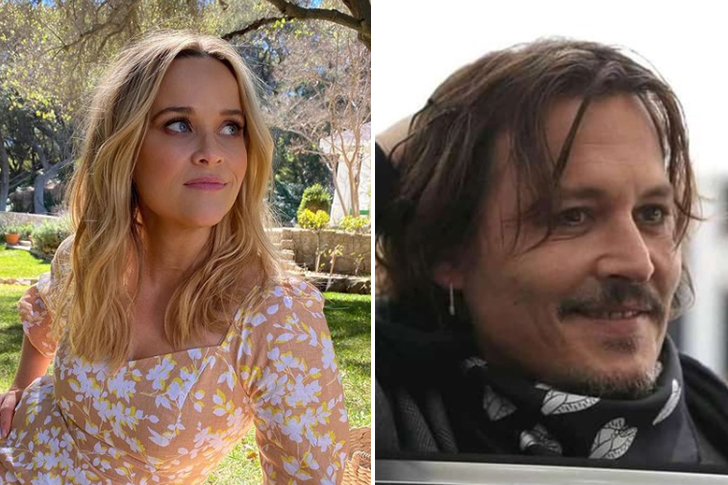 Before rising to fame and becoming one of the most successful stars of her generation, Reese Witherspoon was a typical teenage girl crushing on celebrities. In her first interview with MTV, Reese said that she had a major crush on Johnny Depp, who starred in 21 Jump Street. The Legally Blonde actress once had Johnny's face plastered all over her room's walls, which proves she was smitten by the then-teenage heartthrob's looks and charisma. She recalled how she pulled out pages from Teen Beat and pasted them in her walls to always remind her of him. The 45-year-old actress has always been open about her infatuation with the actor, and she thinks Johnny has heard a lot about it already.
Although Reese has never acted on her crush, she still considers him as one of his crushes up until now. As she went on to become a Hollywood star and a businesswoman who has put up major investment money for her production company, Johnny Depp meanwhile gained his A-list status in Hollywood with iconic portrayals in Pirates of the Caribbean.
Ryan Gosling on Britney Spears
Ryan Gosling has flourished from a teenage star to an A-list leading man. Before he reached his fame in the past years, he has been a part of the Mickey Mouse Club TV show, a hit children's series with Justin Timberlake, Britney Spears, and Christina Aguilera. Little did we know that as Britney and Justin were paired up and had a three-year romance, Ryan had an infatuation with the Hit Me Baby One More Time singer.
This secret was revealed in 2018 by his co-star Christina during her Carpool Karaoke appearance on The Late Late Show with James Corden. As the talk show host stepped on the gas for their ride, Christina admitted that Ryan had a crush on Britney. However, Britney did not have a thing for The Notebook actor as she was hooked with the N-Sync frontman. Although Ryan never admitted his thing for the pop star, he had so many good things to say about her.
Sam Smith on Shia LeBeouf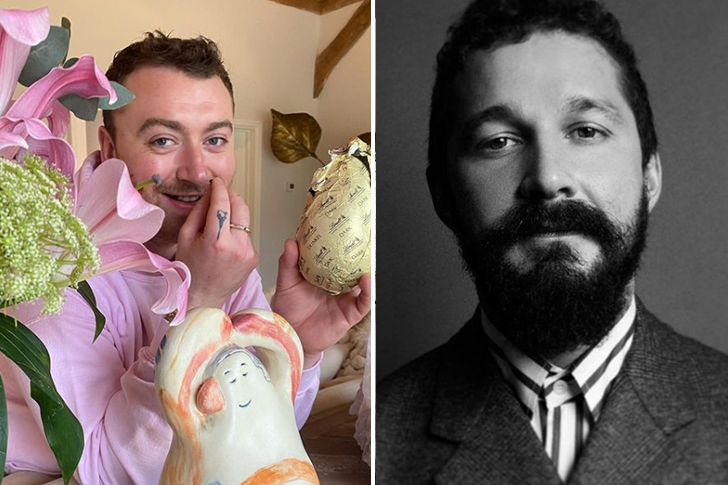 Following Sam Smith's admission as non-binary, he immediately revealed his celebrity crush in the form of performance artist and actor Shia LeBeouf. The Dancing with a Stranger singer, who was single back then, said that he had a brief chat over the phone with the Even Stevens actor, making him gush.
Even when Sam admired how Shia is so fit, he admitted that a budding romance with the actor might not work out to a certain degree. He thinks Shia is not gay but is still open if ever the actor wanted him to be his first. Sam was single in 2019 when he made the admission. He previously dated Brandon Flynn for eight months, one of the casts in the hit TV series 13 Reason Why. Meanwhile, Shia was formerly connected to FKA Twigs, Megan Fox, and Mia Goth.
Selena Gomez on Billy Crudup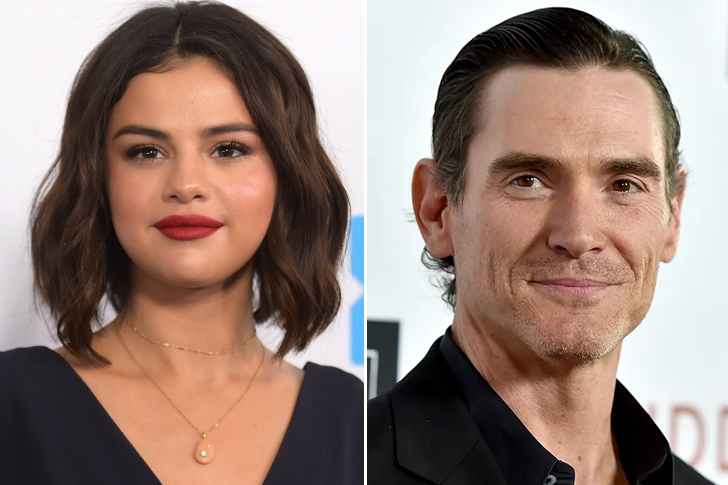 It's not every day that people can be up close and work with their ultimate crushes. Selena Gomez was a fortunate being when she was able to work with Billy Crudup, one of her Hollywood crushes, for the movie Rudderless in 2014. The Who Says hitmaker revealed that she already had a crush on the actor ever since his Almost Famous breakthrough role. Since then, she has always swooned over him, who is decades older than her.
It is a good thing that Selena was able to work with him in Rudderless, where they had heavy drama together. However, their characters do not bring romantic electricity. The songstress mentioned that throughout her work with him, he showed every inch a great guy and an awesome co-star. During its red carpet premiere, Selena had the chance to pose with her crush, resting her head on his shoulder and with Billy putting his hands over her waist for a cozy pose.
Simone Biles on Zac Efron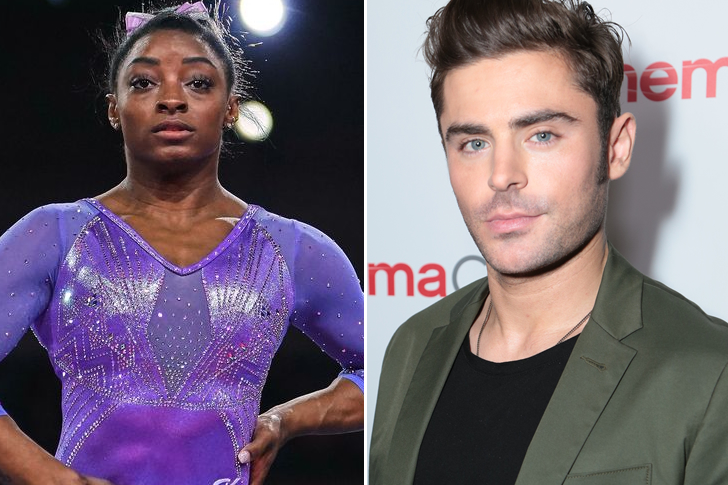 Simone Biles has brought so much pride to Americans for her artistic gymnastics. The athlete has brought an overall tally of 30 Olympic and World Championship medals, making her the third most decorated and celebrated gymnast in the world. The female gymnast has even amassed multimillions even when she is still in her teenage years. Her fortune leaves her with zero money loans or debts even when she decides to retire in the future.
Simone has found inspiration from her family and support team to be able to reach the pinnacle of her success. Her longtime admiration for High School Musical actor Zan Efron may also be one of the biggest reasons why she dominated the Rio Olympics in 2016. Before she entered the stage, she was surprised by none other than Zac to wish her luck. They even exchanged a friendly kiss on each other's cheeks, with Zac saying that his flight to Rio is the least he can do to show support for the athlete.
Sophie Turner on Matthew Perry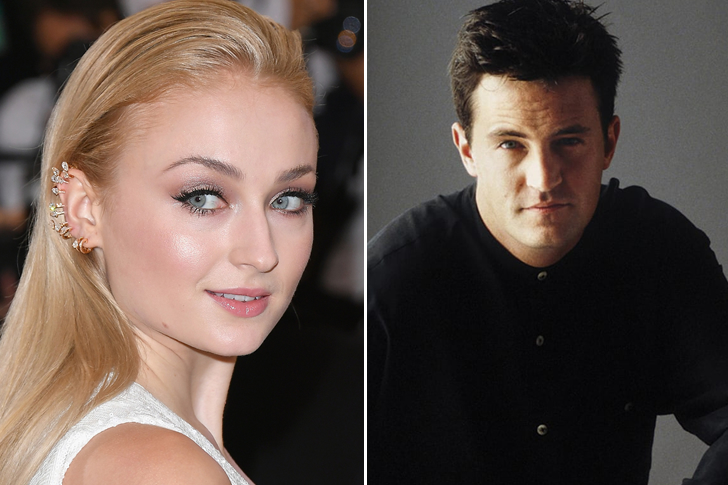 Sophie Turner might have tied the knot with Joe Jonas in 2019, but it does not mean that she has stopped liking other men. The Game of Thrones actress admitted that she has a huge crush on Matthew Perry, who starred in the hit show Friends as Chandler Bing.
A couple of years ago, Sophie reacted to tweets where she mentioned how she saw Matthew Perry within her neighborhood. She recalled how she went to the supermarket and bought lighters in the store just to walk into him to offer to light his cigarette, but Matthew's cigars were already lighted, leaving her embarrassed. She also admitted to having dropped tweets about him, hoping he would send her a message and ask her for a date. Just as in her role in GOT as Sansa Stark, Sophie knows what to do when she wants something. Unfortunately, the actor did not buy the degree of flirting she has given.
Terrell Owens on Jennifer Lopez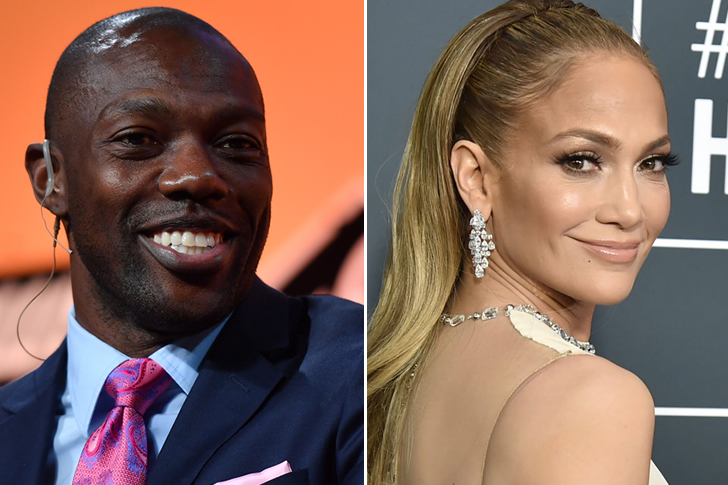 Being one of the most popular pop divas of all time, singer and actress Jennifer Lopez has been on top of the list when it comes to female celebrity crushes. One can agree that she is a complete package—a talented artist, multi-awarded singer and performer, actress, and a thriving businesswoman.
Following Terrell Owens' consultation with his lawyers for legal separation from Rachel Snider in 2015, he announced in a charity project that he is single and looking for a new romance. JLo's name popped out of his mouth when asked of his Hollywood crush. He even said that he wanted to have the contact details of her so they can hang out sometime. He said that he was trying to find her and even asked for help if anyone can connect him to the pop diva. Meanwhile, Lopez also had her fair share of failed romances, including Mark Anthony and Cris Judd.
Tucker West on Gal Gadot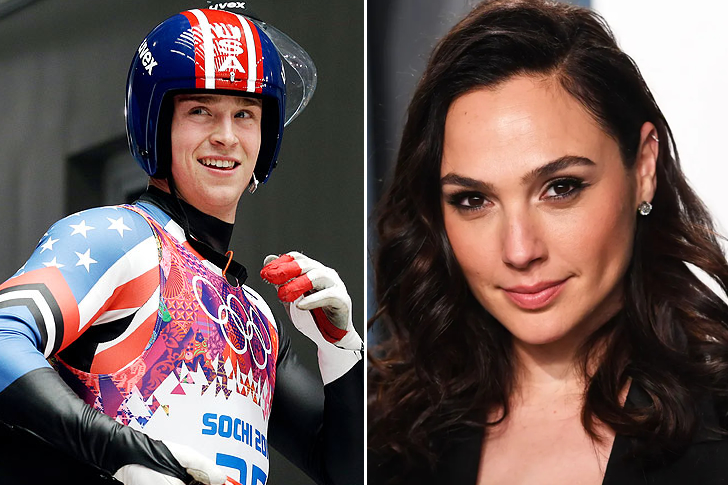 In case you're unaware who he is, Tucker West is an American luger who represented the United States in the 2014 Winter Olympics, held in Sochi, Russia. At age 18, he became the youngest male in history to ever play the sport in the said event. In the men's single competition, Tucker placed 22nd. When the question about his celebrity crush was brought to him, he answered, "I'd go with Gal Gadot," He also mentioned that he watched the Wonder Woman film. That same year, Tucker grabbed the bronze medal at the Luge World Cup, with his accumulated time of 1:42:226 helping him compete at the 2018 Winter Olympics in Pyeongchang County, South Korea.
Before Gal had her standalone film, the Israeli stunner first appeared in the Batman V Superman: Dawn Of Justice in 2016. In 2020, she reprised the leading role credit in Wonder Woman 1984.
Nathan Chen on Emma Watson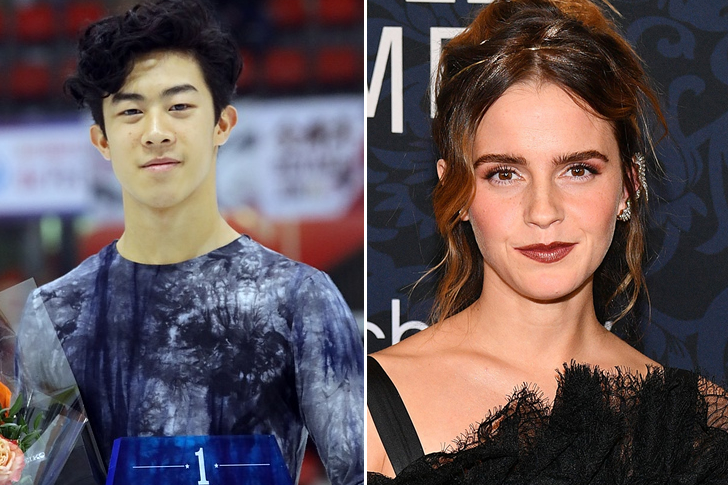 When Nathan Chen was asked about his celebrity crush, he immediately responded by saying, "Emma Watson definitely is!" Well, who could possibly blame him? "I love Harry Potter, plus she's gorgeous, which really helps," he added. I guess we could all relate to that. Well, if we may add, Emma is not just beautiful on the outside, but she's also stunning on the inside. She is smart, elegant, articulate, and an exceptional actress to an inexplicable degree. We could possibly enumerate numerous adjectives to describe her, but it might still not be enough. Aside from the hit film series, she also captivated us when she appeared in the Disney live-action film Beauty and the Beast.
Nathan Wei Chen was born on May 5, 1999. He is a three-time World champion figure skater from the US. Aside from this, he is also unbeatable in the national competitions as he was the champion from 2017 to 2021.
Mikaela Shiffrin on Chris Hemsworth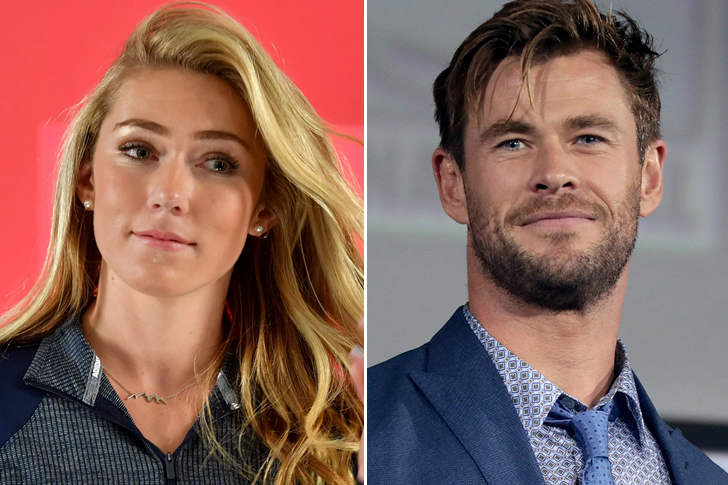 Mikaela Shiffrin was kind of apologetic for revealing her celebrity crush, which we still believe that she should not be. When she was asked, she replied by stating, "probably Chris Hemsworth." She might have watched him in numerous MCU films that he was in as Thor, or maybe in Snow White and the Huntsman.
Mikaela Shiffrin was born in Vail, Colorado, on March 13, 1995. Her investments in various ice sports gave too much pride to her country. She is a World Cup alpine skier, a two-time Olympic Gold Medalist, a three-time overall World Cup champion, and an all-time most awarded alpine skier in World Championships. She has 11 medals, six of which are gold. In addition, after securing all six FIS Alpine Ski World Cup disciplines, she became the first and only athlete to do that. If that's not impressive, then we don't know what is.
Mirai Nagasu on Johnny Depp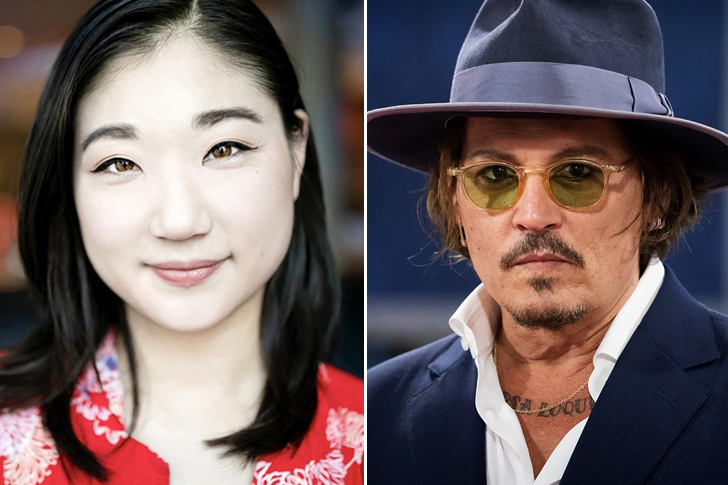 Mirai Nagasu was born in 1993, but she thinks that she has an old soul because she has a crush on Johnny Depp, who is in his late 50s. Mirai was also aware that the actor landed an acting credit in Fantastic Beasts, and she even expressed her excitement. We're pretty sure that she knows that Johnny already resigned after the issues he faced from his former wife.
In case you're not yet familiar with her yet, Mirai is a figure skater who has won three medals in the Four Continents, two medals in World Junior, the champion in the 2007 JGP Final, and seven medals in the U.S. national. She was cast to play at the 2010 Winter Olympics for the U.S., where she placed fourth. Mirai also made history for the American ladies' singles skaters after doing the complex triple Axel jump flawlessly in the famous competition.
Julia Marino on The Sprouse Twins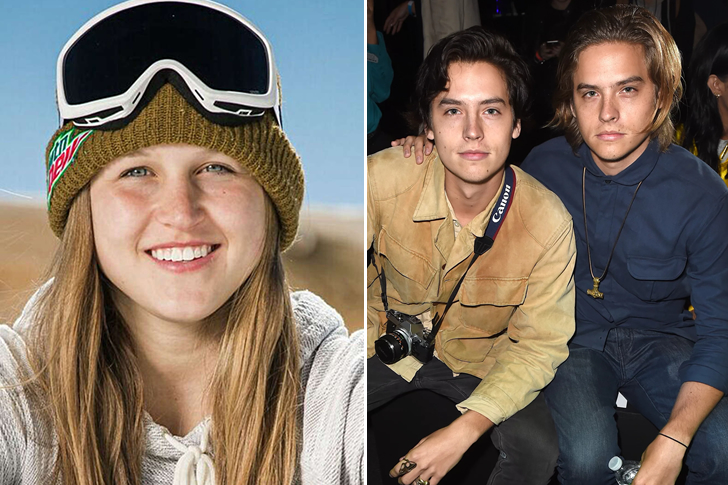 Well, this one is quite relatable. Julia Marino once said that "The Sprouse twins would be my celebrity crush." We guess she, too, wasn't able to choose between The Suite Life of Zack & Cody stars, Dylan and Cole Sprouse. Dylan is currently madly in love with model Barbara Palvin, while Cole is rumored to be dating a model named Ari Fournier. Aside from the twins, she also mentioned that she wanted to meet the Stranger Things actress Milly Bobby Brown.
Julia Marino was born on September 11, 1997. She is a snowboarder who snatched the bronze medal in Big Air and an impressive gold in Slopestyle, which she won both in the 2017 X Games. In her pursuit to score a gold medal, she landed a Cab 900 double underflip, becoming the first female to take this credit in the Slopestyle competition.
John Daly on Katy Perry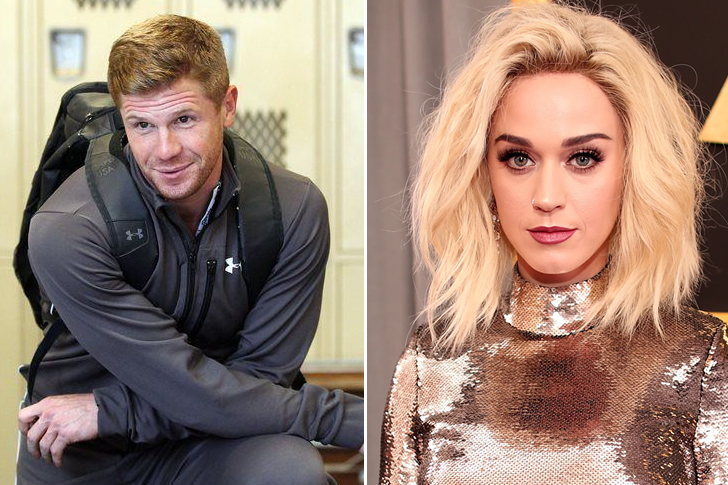 When the question was thrown at him, John Daly boasted about his crush. He answered, "Katy Perry. Why? Simple— because she's hot, and I like her music." He also added saying, "She seems like a fun time." Well, this might be true since Orlando Bloom once broke up with her and then reconciled. Aside from the California Gurls singer, John also has his eyes on Aquaman actress and Johnny Depp's former wife, Amber Heard.
John finished his communications degree at The State University of New York at Plattsburgh in 2008. When he was in the track & field team of Plattsburgh, he put effort into the decathlon. After an unfortunate event, his BMW racing career was halted. In 2001, he began playing skeleton, and from then to 2010, he garnered gold medals in America's Cup and International Cup. With his persistence, he was able to play in three consecutive Winter Olympics, 2010, 2014, and 2018.
Jessie Diggins on Nina Dobrev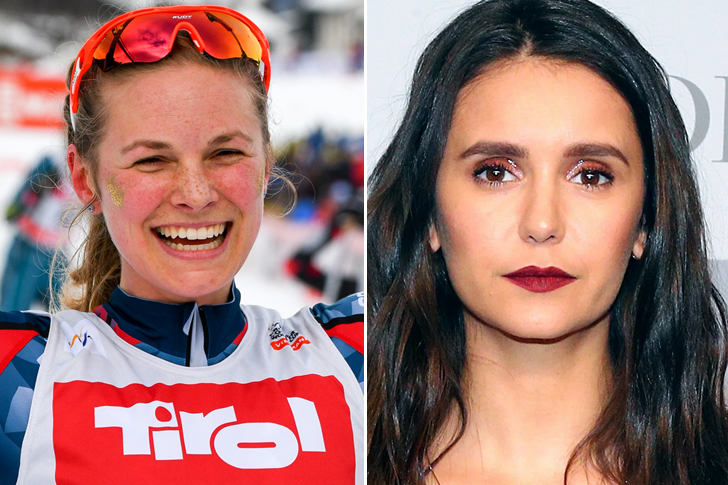 The reason why Jessie Diggins has a girl crush on Nina Dobrev is that she "was super obsessed with The Vampire Diaries." This reason is acceptable since many of us got to know Nina because of the show. If there's the slightest chance that you don't know her, she is a Canadian actress who was born in Bulgaria. Aside from the TV series mentioned, she also has credit in the Degrassi: The Next Generation, which gave her incredible fame.
Jessie Diggins was born in Minnesota, on August 26, 1991. She is a cross-country skier who clinched the first gold medal for the US at the 2018 Pyeongchang Winter Olympics with teammate Kikkan Randall. Prior to this, in the 2013 FIS Nordic World Ski Championships held in Val di Fiemme, she and Kikkan snatched another gold medal. In March 2021, she earned the highest spot in the 2020–21 FIS Cross-Country World Cup overall standings for women.
Chris Mazdzer on Mila Kunis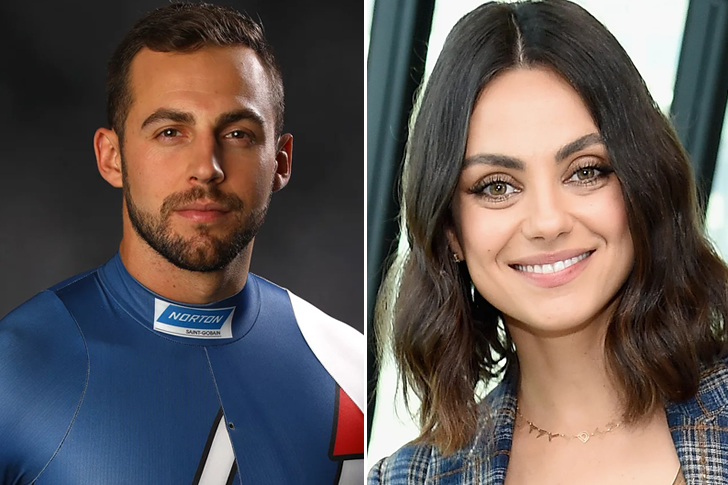 It's uncertain if the deal still stands, but according to Chris Mazdzer, he would play luge with his celebrity crush, Mila Kunis, if given even a slight degree of chance. We think it's a chance that might be difficult to obtain since Mila has an Ashton Kutcher to whom she needed to get permission first.
Christopher Mazdzer is a luger from the US who participated in the 2010 and 2014 Winter Olympics, where he finished 13th on both events. However, in the next, he clinched the silver in the Men's Single Luge, the first medalist from the US. Aside from the icy sport, he also appeared in Dancing With The Stars in April 2018. He teamed up with pro-dancer Witney Carson, placing fourth for the 26th season. Despite the pandemic, he and Romanian-born Mara Marian tied the knot in Salt Lake City, Utah, months after being engaged.
Chloe Kim on Zayn Malik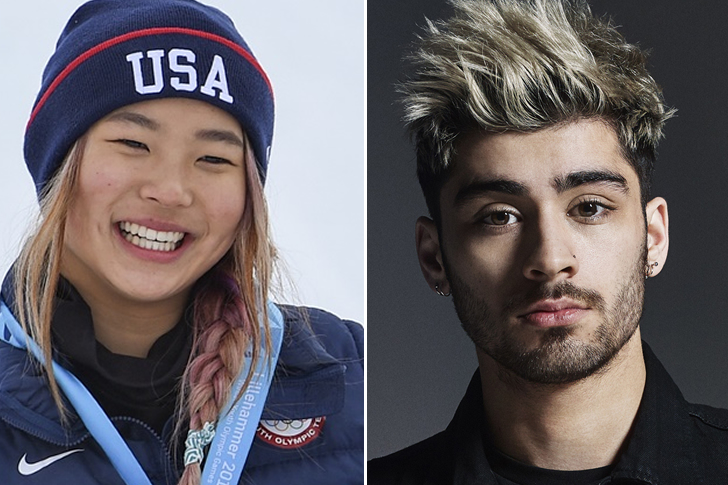 Chloe Kim stated the obvious when she was asked about her celebrity crush, and she responded that it is Zayn Malik. Her reason is that he is "a cutie." As many of us know, Zayn is a former member of the British boyband One Direction, and he is now happy with his life as a father to his son with model Gigi Hadid.
Chloe was born in Long Beach, California, on April 23, 2000. She's a snowboarder whose investment in the sport raked her many gold medals. She is the youngest female to snatch an Olympic gold medal at the women's snowboard halfpipe in the 2018 Winter Olympics and is the first female to win two golds at the Winter Youth Olympic Games. Adding to her World Championship win, Chloe is the first athlete to win all four major competitions.
Carlo Valdes on Kate Beckinsale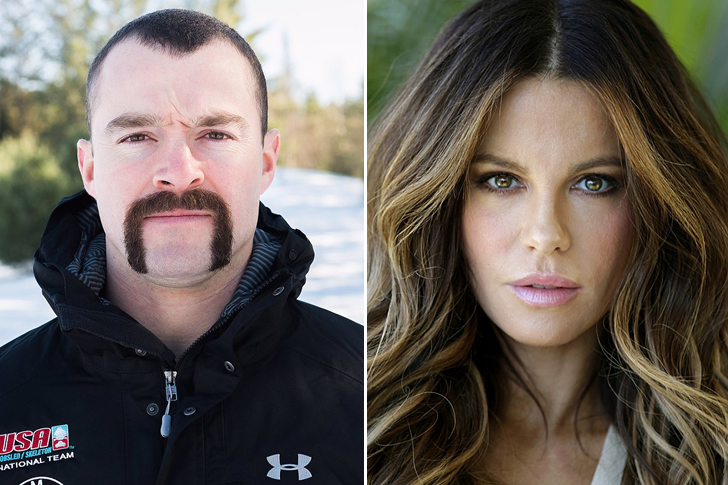 Carlos Valdes revealed in an interview he had a list of celebrity crushes, and one of them was Kate Beckinsale. Others on his list were Olivia Wilde, Camille Leblanc-Bazinet, and Jessica Biel. For those who don't know Beckinsale, she is the superb actress behind a number of hit films, like Pearl Harbor, Van Helsing, and Love & Friendship.
Valdes, who was born on February 11, 1990, is a bobsledder from the US. The most notable competition he was in was the 2018 Winter Olympics, where he competed in the four-person event. During his time with the University of California, Los Angeles, where he finished his bachelor of arts degree in History, he used to play various sports, like football, decathlon, and Javelin. Yup that is also quite a list of sports he played, and though he only has one athlete crush on the list, they are all good sports, we bet.
Adam Rippon on Harry Styles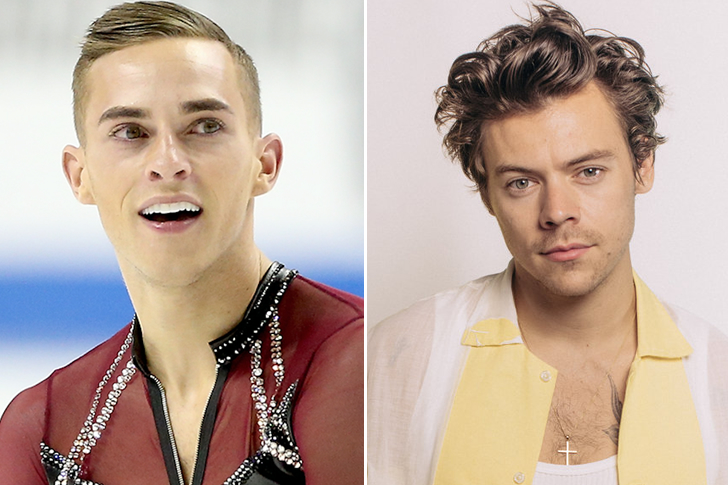 It's never too late, Adam Rippon! When he was asked about his crush, he answered Harry Styles. However, his revelation came after One Direction broke up and Styles already pursued a solo career. Breaking apart is quite beneficial for this young artist because he has proven that he is more than just a member of the British boyband. He has dropped two albums, a self-titled one and Fine Line. Both albums topped the Billboard Top 200 chart, but the latter takes home a Grammy award and features the Hot 100-topping-single, Watermelon Sugar.
Rippon is a former figure skater from the US. He came home a big winner after the 2016 US National Championships and 2010 Four Continents Championships. At the 2018 Winter Olympics held in Pyeongchang, South Korea, Rippon placed third. He then received another win, not from the sports but from his investment in season 26 of Dancing With The Star, opposite the pro-dancer Jenna Johnson.
Joan Smalls on Angelina Jolie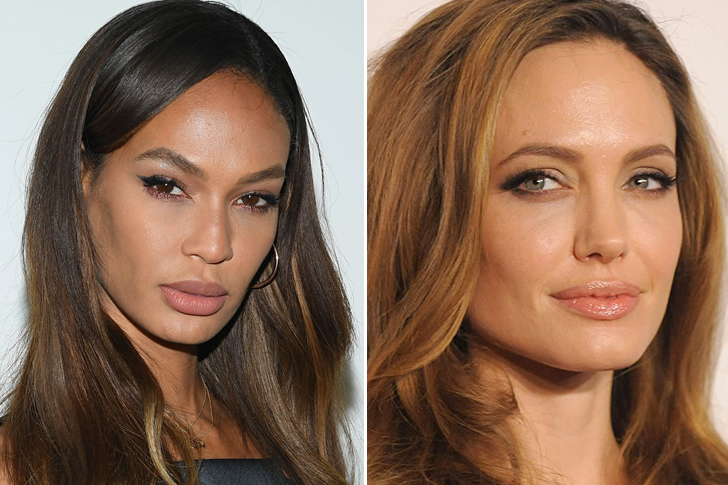 Joan Smalls is relatively intelligent for dodging the question about her celebrity crushes. W Magazine asked her and other famous models about their celebrity crush. She started by saying, "Since you didn't say it had to be male," she paused and thought hard. Later, she mentioned Angelina Jolie mainly because of her lips. Well, that's not usual. This is Lara Croft's actress's signature look, right? Another name she said is the bad gal, Rihanna. At the end of the video posted by W on YouTube, Smalls revealed she has a boyfriend, so she's hesitant to say her male crush. It's fine, Joan!
Smalls is a model and actress from Puerto Rico, born on July 11, 1988. In 2011, she made history for Latinas when she became the first model to work with Estee Lauder. In 2013, the catwalker ranked third in the "World's Highest-Paid Models" of Forbes magazine, for the first time. She reportedly earned more than $3 million, even without a finance degree. Impressive!
Emily Ratajkowski on Denzel Washington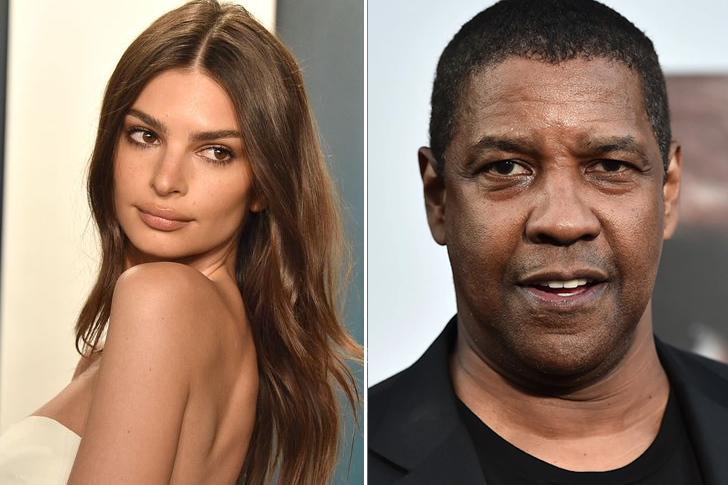 After mentioning that she has a crush on Denzel Washington, Emily Ratajkowksi nodded confidently. As if she was saying, "Is there anyone better than him?" She could be right, but we are expecting someone like Michael B Jordan, who is in the same age bracket as her, but okay. We will accept that. If you know who Washington is, he is an American actor who became famous for his acting credits in the 1989 film Glory and the 2001 thriller Training Day. According to the New York Times, he is the greatest actor of the 21st century. Guess Ratajkowksi is right after all.
Alternatively, Ratajkowski is a model and actress born in London, England, on June 7, 1991, but now holds US citizenship. Her runway modeling career started for Marc Jacobs at New York Fashion Week. Since then, she has also worked with luxury brands like Versace, Bottega Veneta, and Dolce & Gabbana, to name a few.
Irina Shayk on Sofia Vergara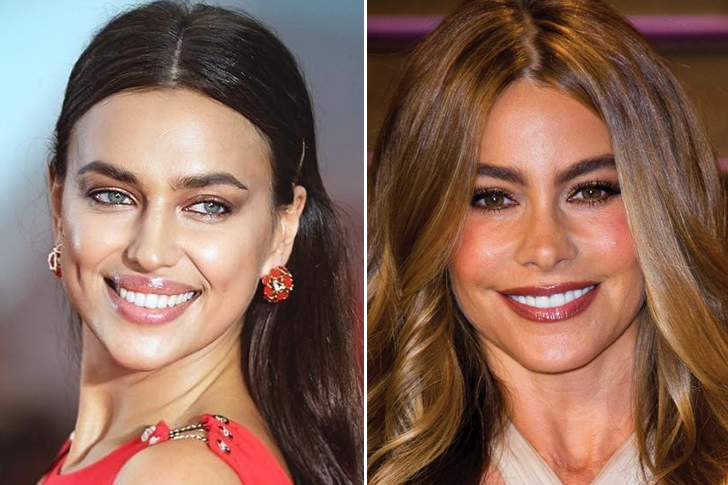 "I really, really, really love Sofia Vergara," Irina stated after she W magazine asked her about her celebrity crush. That's a lot of really, like really! Okay, that's enough. According to her, she finds the Modern Family star hot and funny. Plus, "she's real," and we know exactly what she meant by that.
Shayk is a model and actress who became famous after gracing the cover of the 2011 Sports Illustrated Swimsuit Issue—the first Russian model to do so. Models.com dubs her as an "industry icon." Aside from the publication mentioned, she also posed for Allure Russia, Vogue Spain, and Harper's Bazaar US, to name a few. Not surprisingly, she also graced the runway of numerous luxury brands, including Givenchy, Burberry, and Diane Von Furstenberg. In 2014, she landed her first acting credit in the 2014 film Hercules, alongside Dwayne "The Rock" Johnson.
Lily Aldridge on Taylor Swift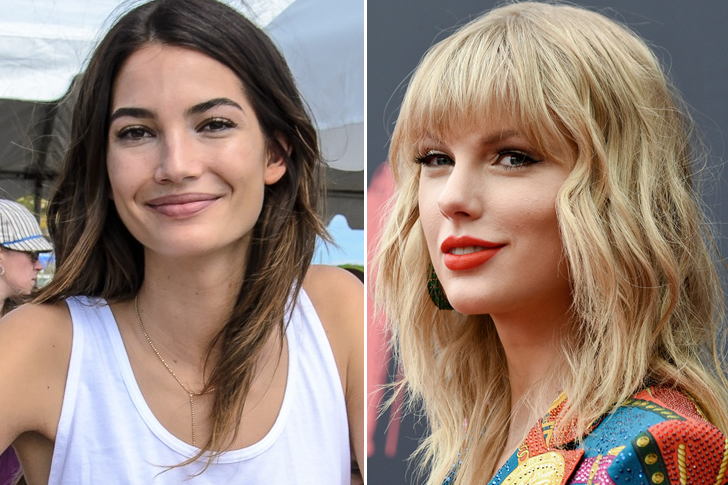 Lily giggled after expressing her admiration to one of the biggest pop stars in the world today, Taylor Swift. The young country star who turned into a humongous pop icon has a huge fan base, and it's not surprising if a stunning model like Aldridge likes her. Love Story, Shake It Off, and You Belong With Me are some of the hit singles that made Taytay extremely famous and wealthy.
Aldridge was born on November 15, 1985, making her four years older than Swift. From 2010 to 2018, she walked for Victoria's Secret runway. In addition, she might have made a significant investment after she graced an immense number of magazine covers, such as Sports Illustrated Swimsuit Issue, Vogue, Harper's Bazaar, Elle, and W. Aldridge also made an appearance in a number of TV series, like 2 Broke Girls and Love Advent.
Rosie Huntington-Whiteley on Rihanna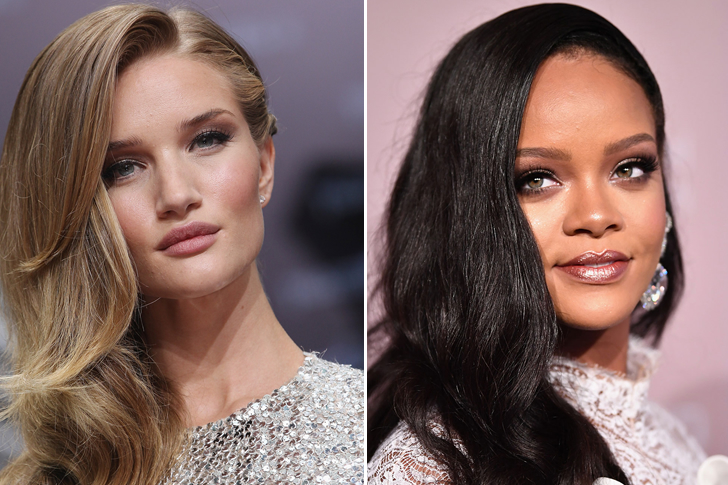 Rosie Huntington-Whiteley is a famous English and model. She is best known for her collaboration with the lingerie retailer Victoria's Secret. Interestingly, she was one of the brand's "Angels," but she gravitated towards modeling for other companies, such as Burberry and Marks & Spencer. She is also an actress, and she has a couple of acting credits to her name from the movies Transformers: Dark of the Moon and Mad Max: Fury Road.
Talking about a female celebrity's crush can be pretty tricky. Of course, Huntington-Whiteley would not want to invite any unwanted issues in her way. However, the famous star bravely revealed that she had always admired Rihanna. We are just unsure if Rosie said Rihanna's name as her safe answer, knowing she is in a longstanding relationship with the actor Jason Statham. Nonetheless, we commend her bravery, though we cannot deny that it is quite an intriguing answer.